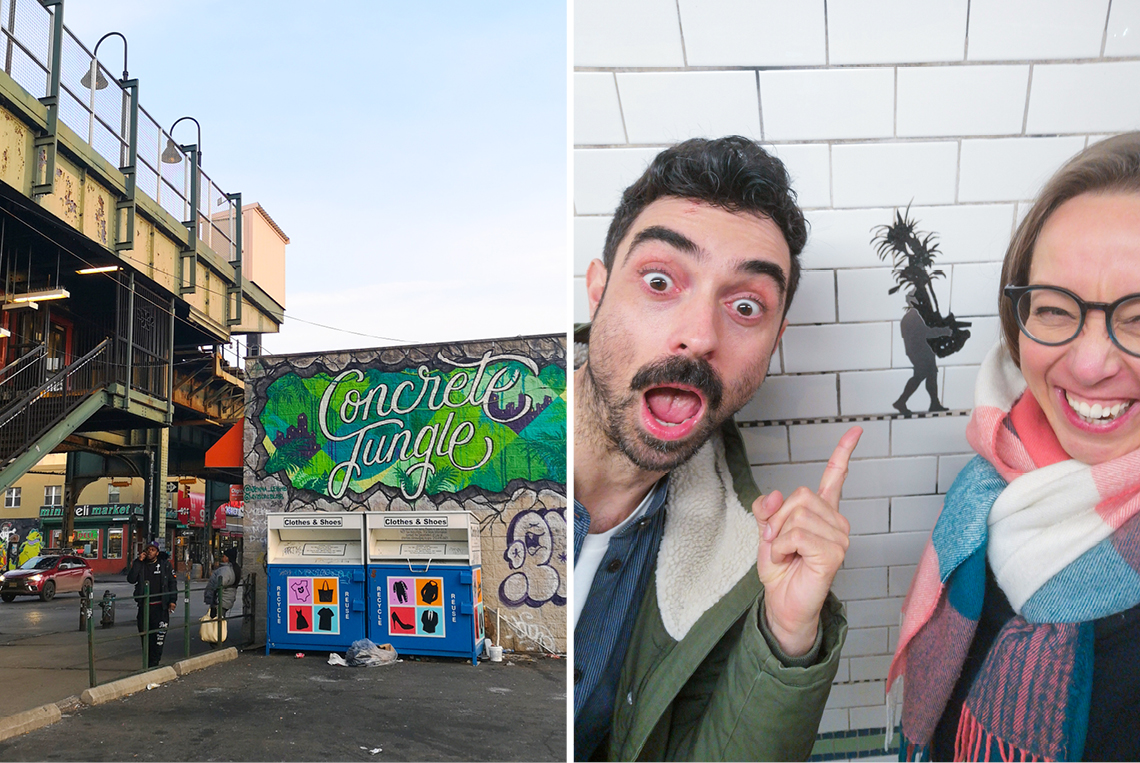 Ok let's be frank: New York is always worth a trip! No matter your interests, your likings, your plans. The city that never sleeps offers it all – for everybody. So if you are a plant freak like us, you will enjoy the city to the max too. Just like we did a few weeks ago when we went to New York City for an exciting upcoming plant project (stay tuned). We snapped away with our smartphones and brought back some of our favorite green tips for New York – bookmark these if you plan a visit and love plants. Let's roll!
Let's first start with some plant shopping. It's very easy to find some nice plants in the Big Apple! You can go to the Chelsea Flower Market, or visit one of the cool urban plant shops in town. Our list was long and between meetings & lunches we managed to visit quite a few. Our first stop is at the beautiful Green Fingers Market, by talented Satoshi Kawamoto, the Japanese plant artist and creative director behind Green Fingers also known as Satie San. If you like his signature style of unique vintage treasures and plants, make sure to also check out our post about the Green Fingers plant shop in Milan HERE.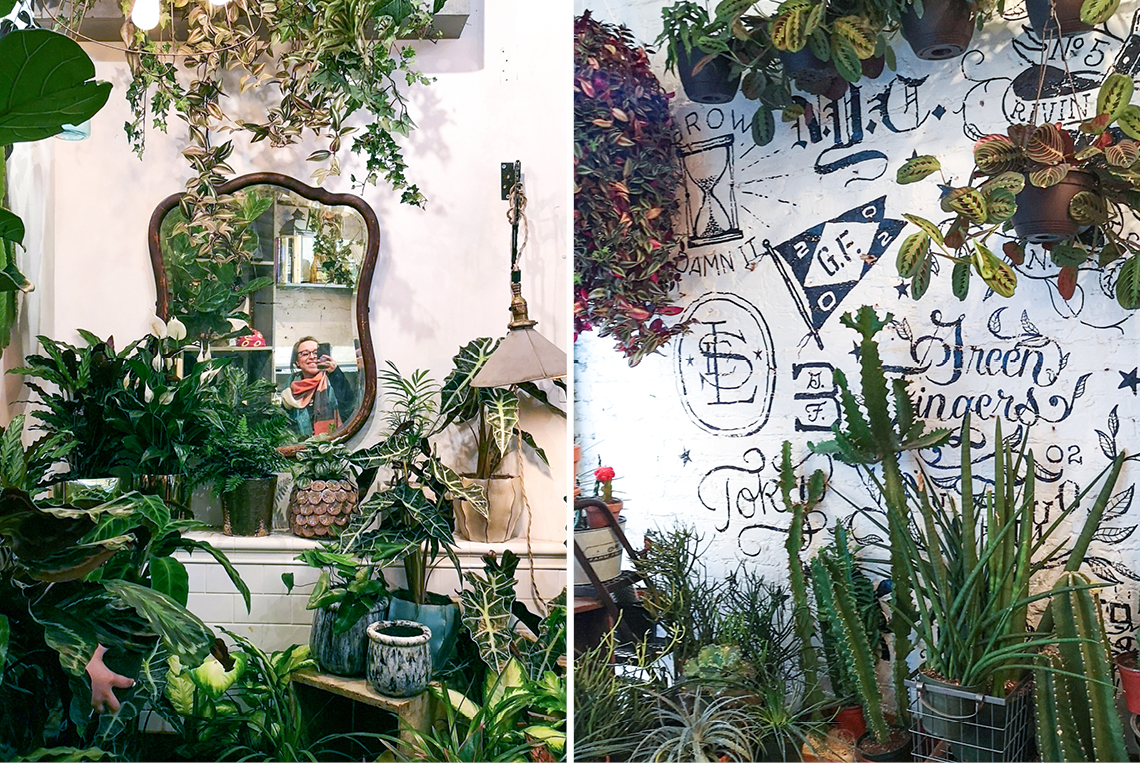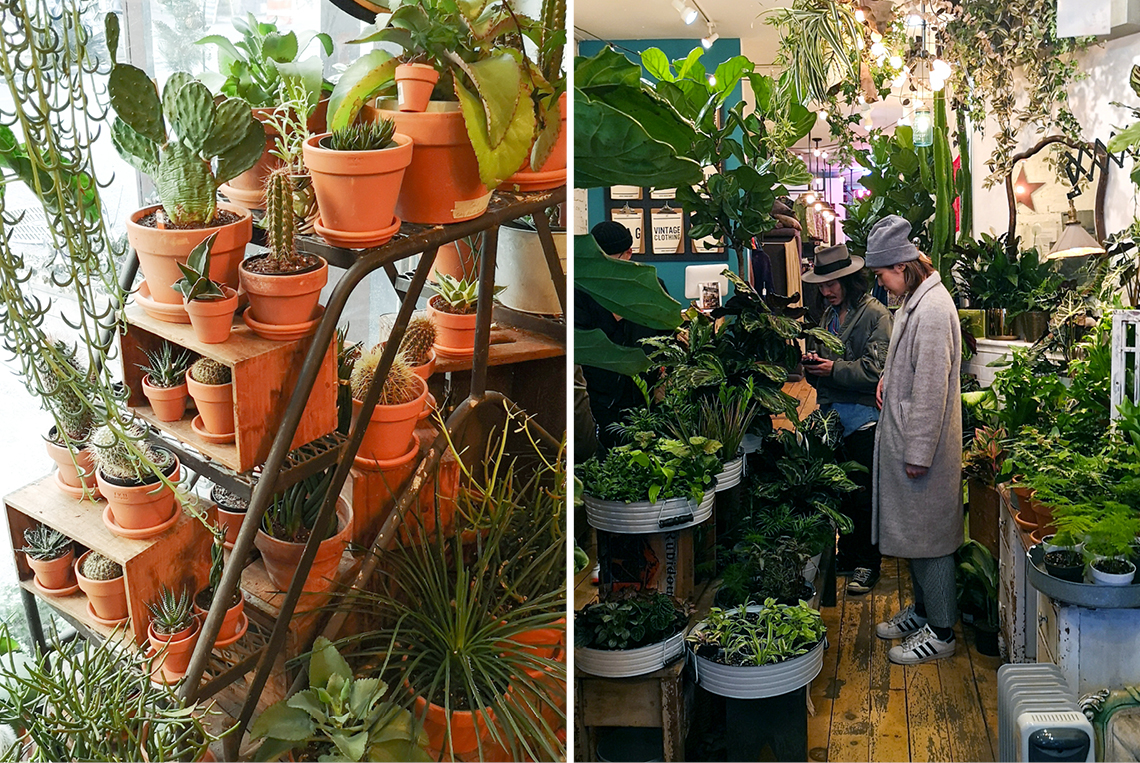 Green Fingers Market – 5 Rivington street – New York, NY 10002
__________________________
We received so many DMs from friends & Urban Jungle Bloggers that we HAD to visit Sprout in Brooklyn. One of their stores in Grand Street is all about dressing a beautiful table and kitchen ware, paired with beautiful greenery. And just across the street you can find their XXL shop with anything planty and floral.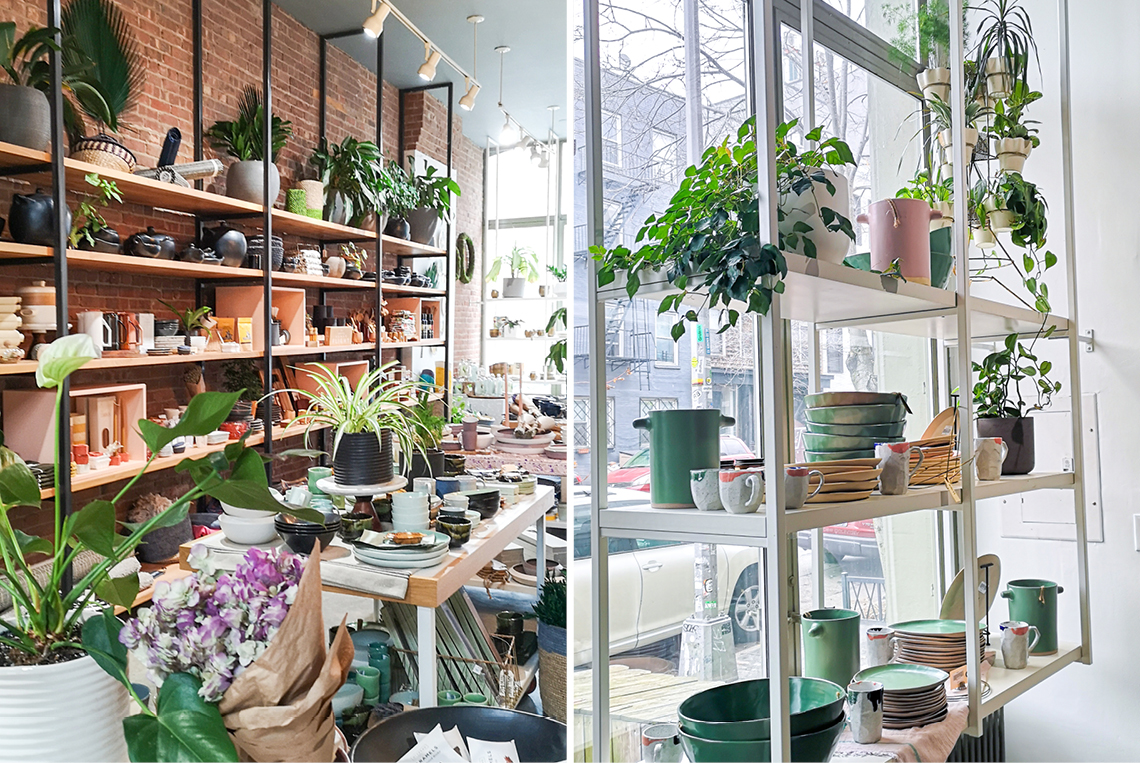 Sprout Home Kitchen & Table – 44 Grand Street – Brooklyn, NY 11249
__________________________
Houseplants in every size, shape and color, a repotting station, cooled flowers, airplants, a really nice selection of ceramics, glassware, plant pots, plant hangers, tools, soils, stones & gems, terrariums and more at this XXL shop with exposed bricks and bright yellow, pink and black accents. The design of the shop is spacious, clean and makes the plants stand out really well. We loved it and fell hard for the Etch planters by Capra Designs, but also purchased some nice smaller ceramics and citrine stones!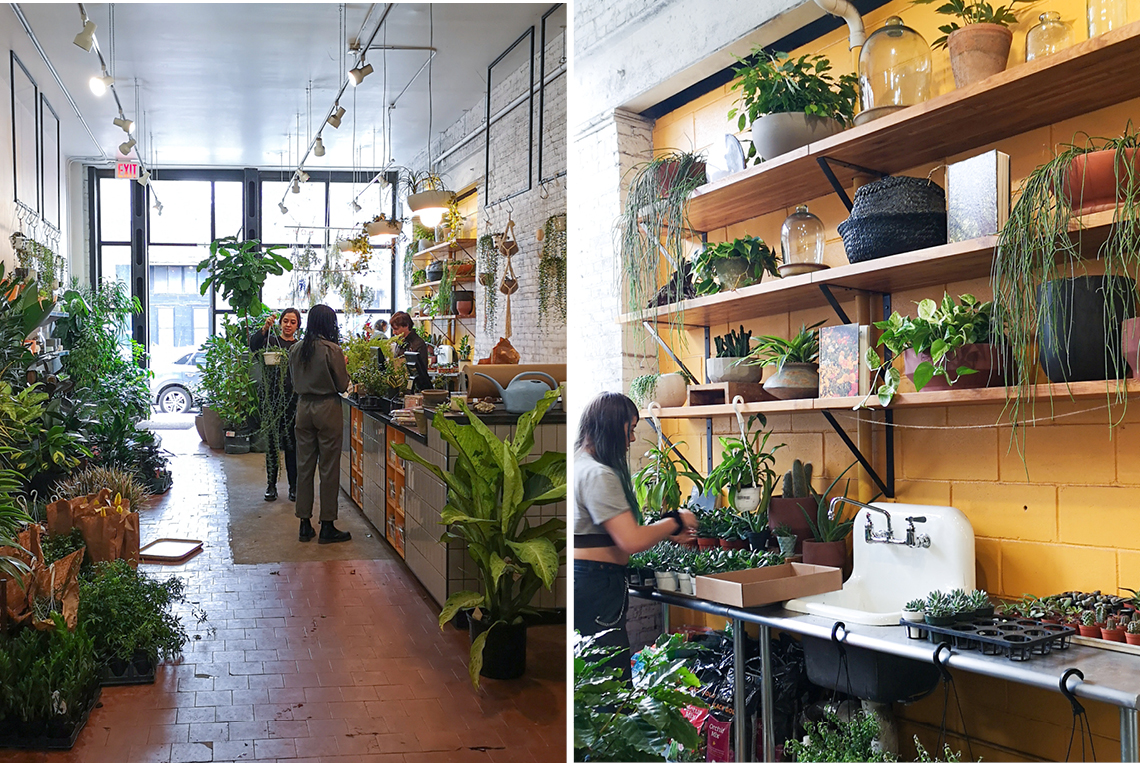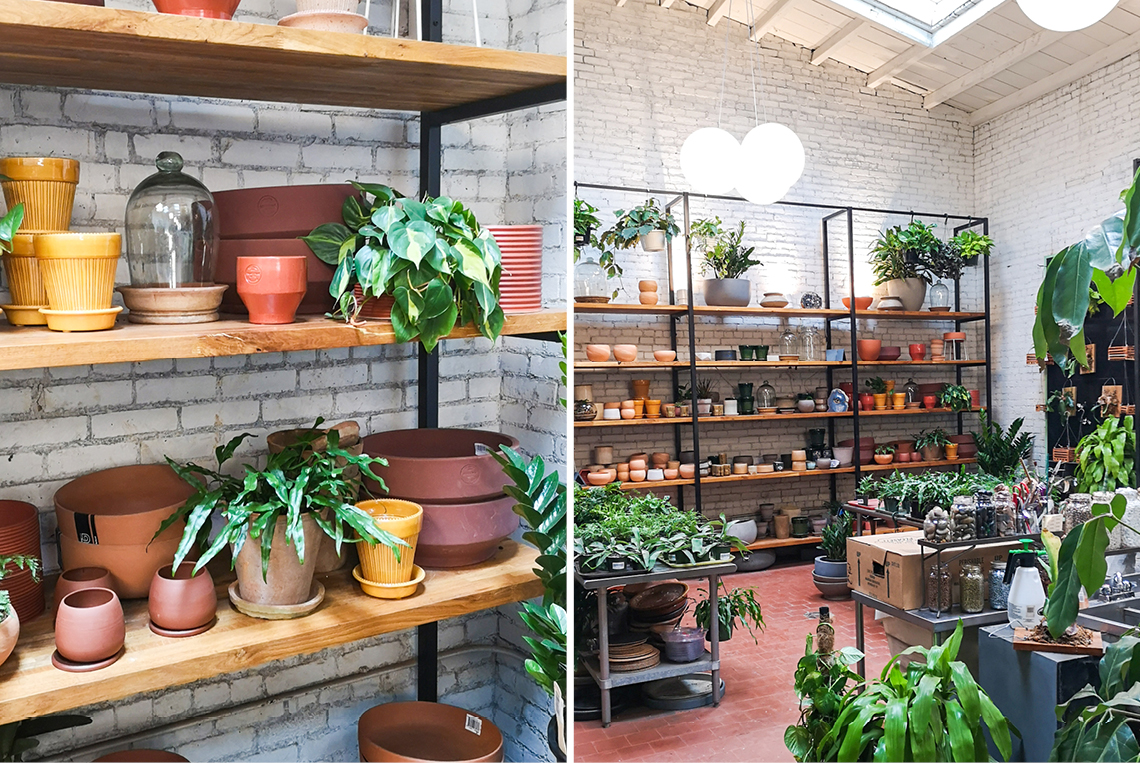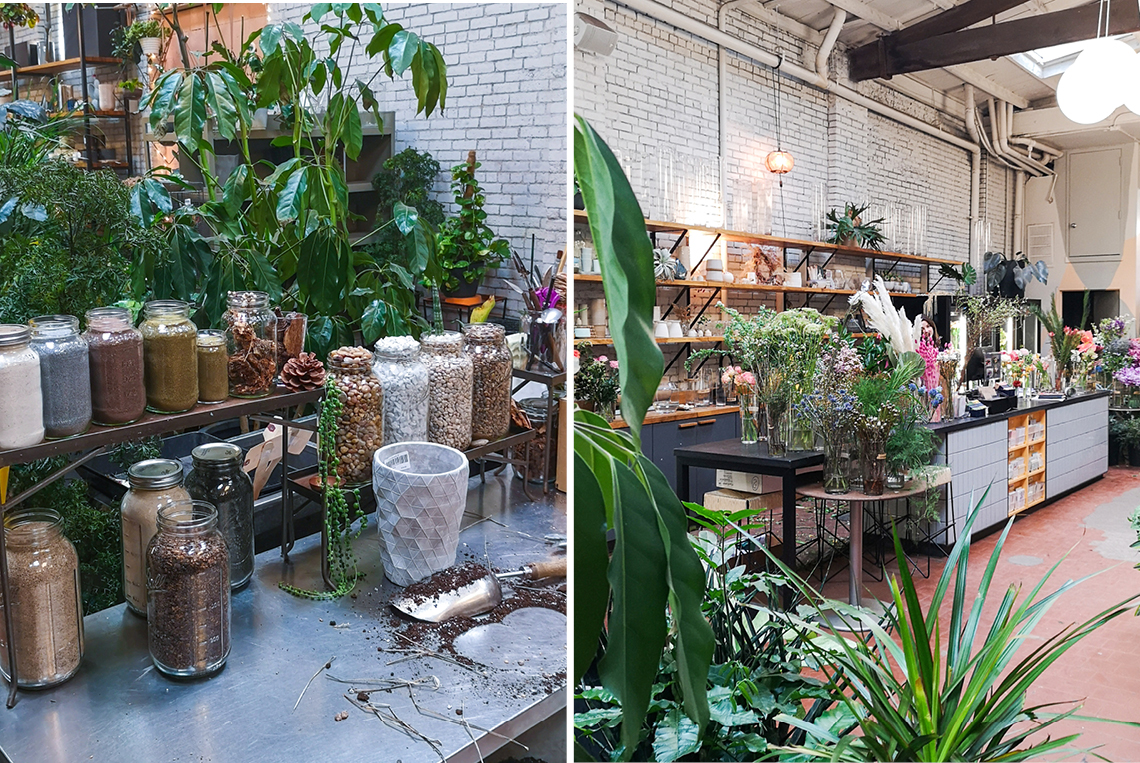 Sprout Home – 59 Grand Street – Brooklyn, NY 11249
__________________________
Coffee and plants are always a good idea! Welcome to Plant Shed where you can sit down for a coffee, treat yourself to a new houseplant, or purchase a freshly picked bouquet for a friend. Or buy one the fun planters, like the Modernica large Mushroom planters: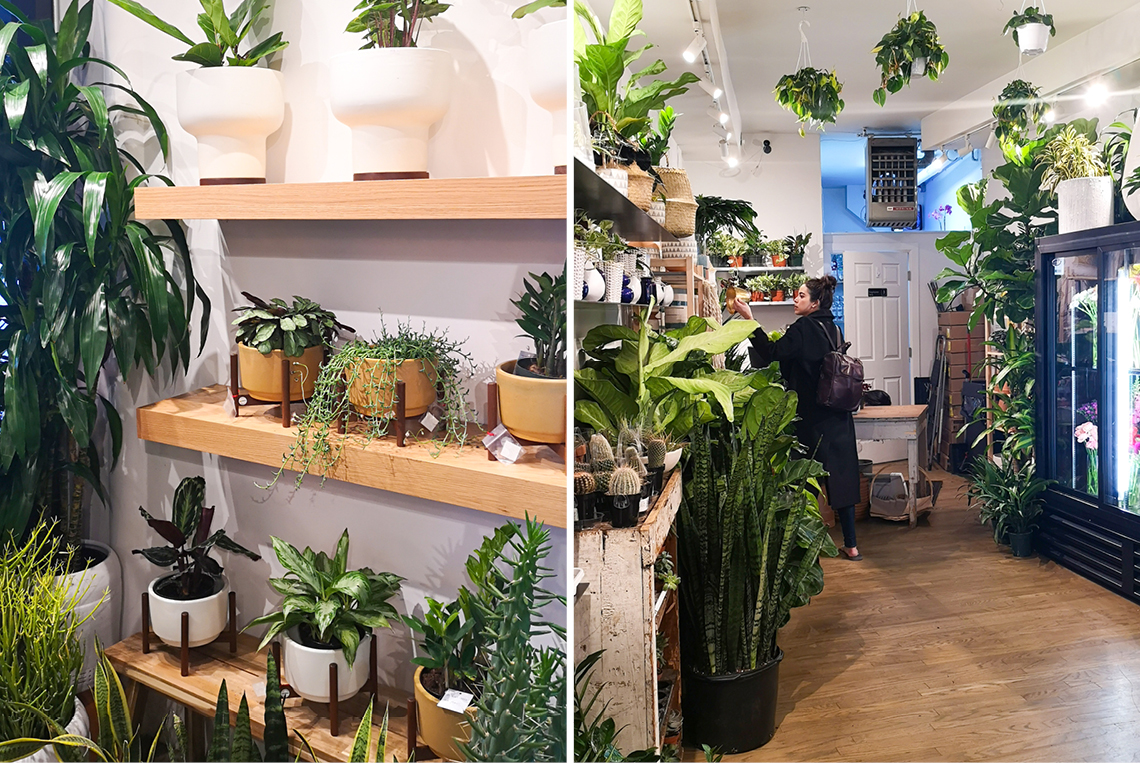 Plant Shed –  1 Prince St. (at Bowery) – New York, NY 10012
__________________________
More plants, coffee and flowers… different style! You can shop for all of it at one of the locations of Homecoming. They also stock some really nice books and magazines, ceramics, candles, watering cans, glassware, plaids. Everything to make coming home even nicer!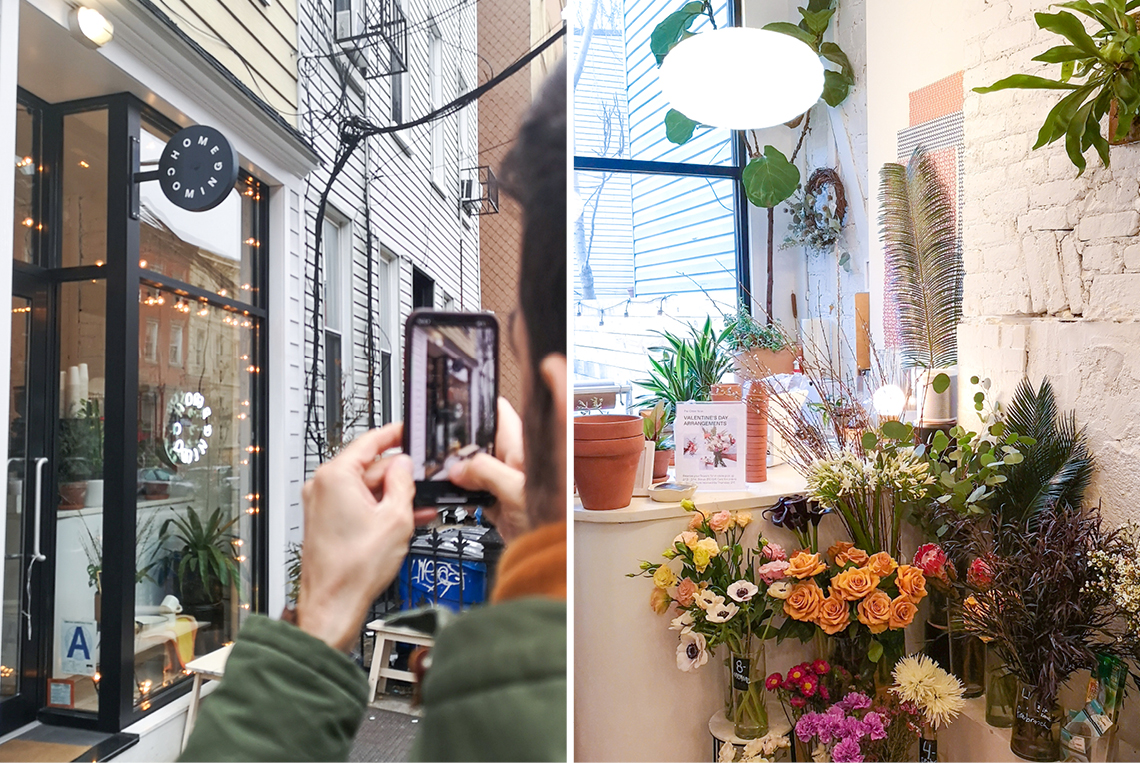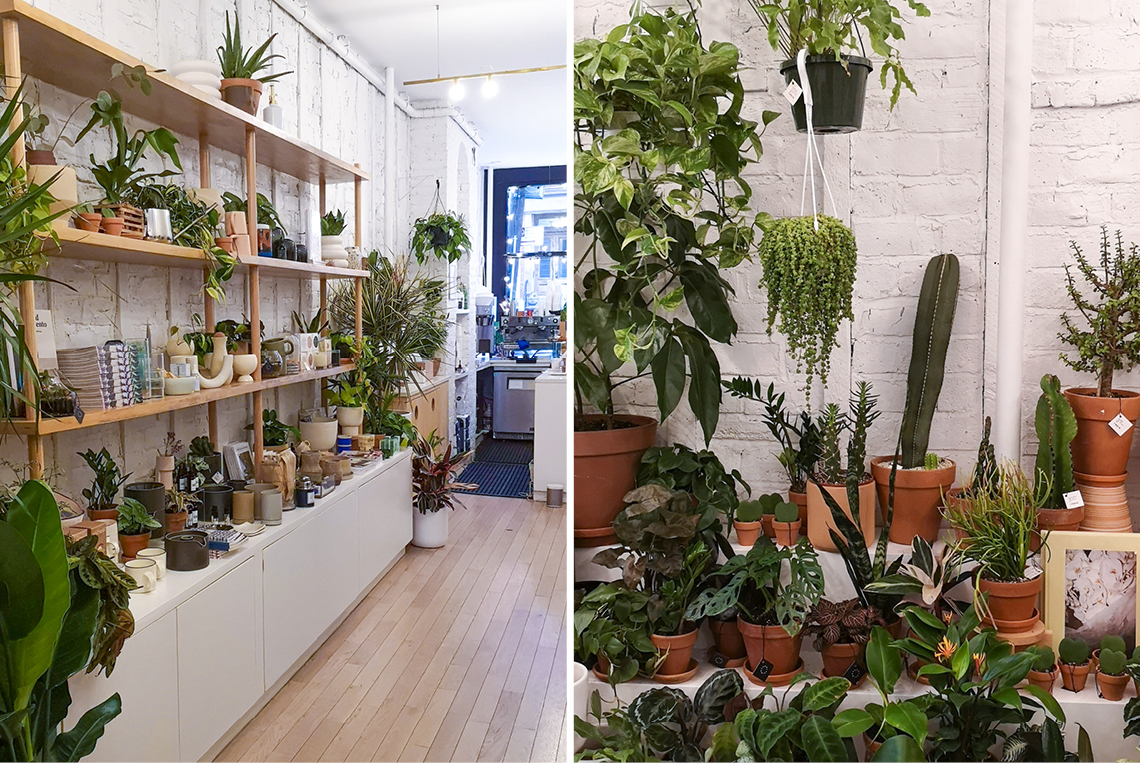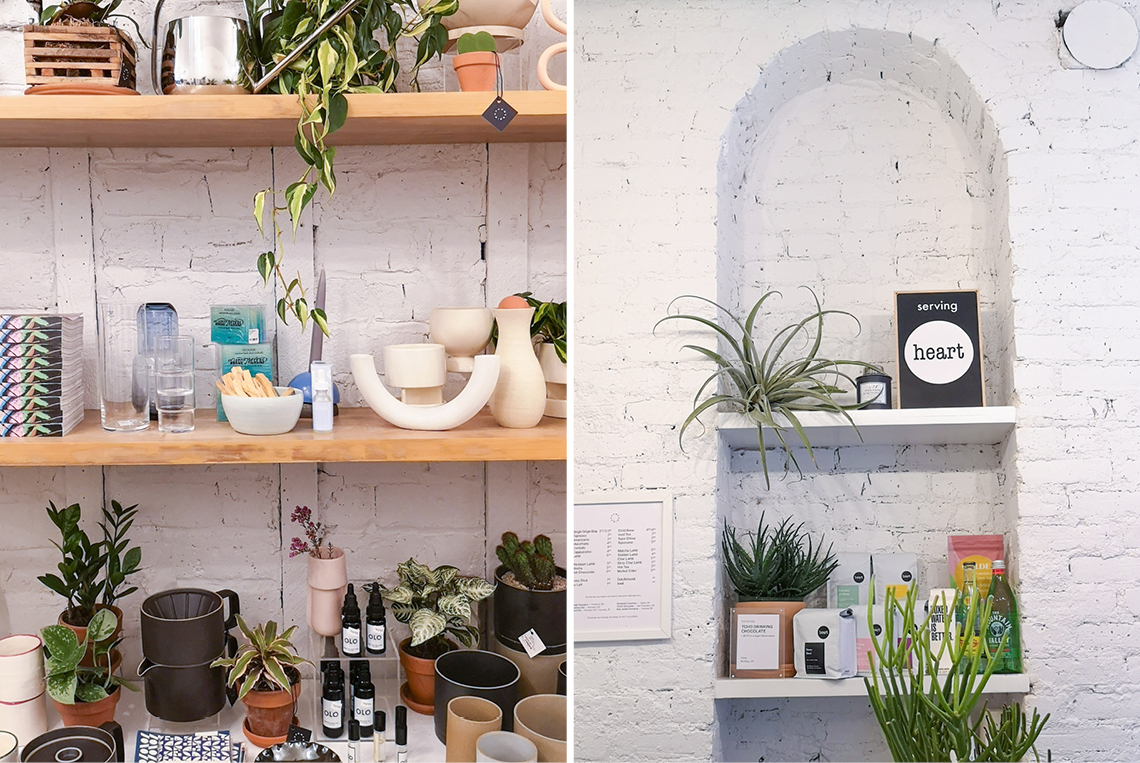 Homecoming – 92 Berry St. – Brooklyn, NY 11249
__________________________
Plants and coffee are nice, but what about really good vintage designs and plants? The spacious shop of Other Times in Brooklyn has a fantastic selection of vintage furniture (like Danish Design sideboards), lamps, mirrors, planters and books, paired with tall Sansevieira, cereus cacti, Stromanthe triostar, fiddle figs, palms and more… Oh and make sure to check out their cool selection of vintage books as well. The titles are hilarious!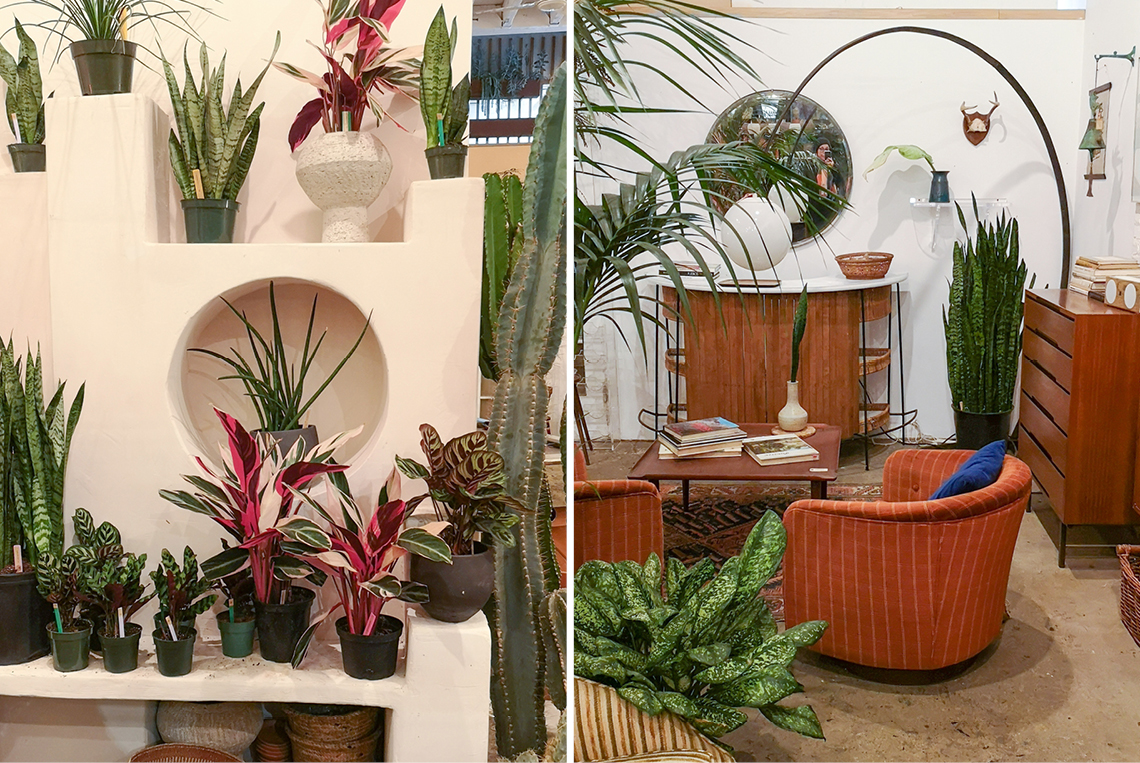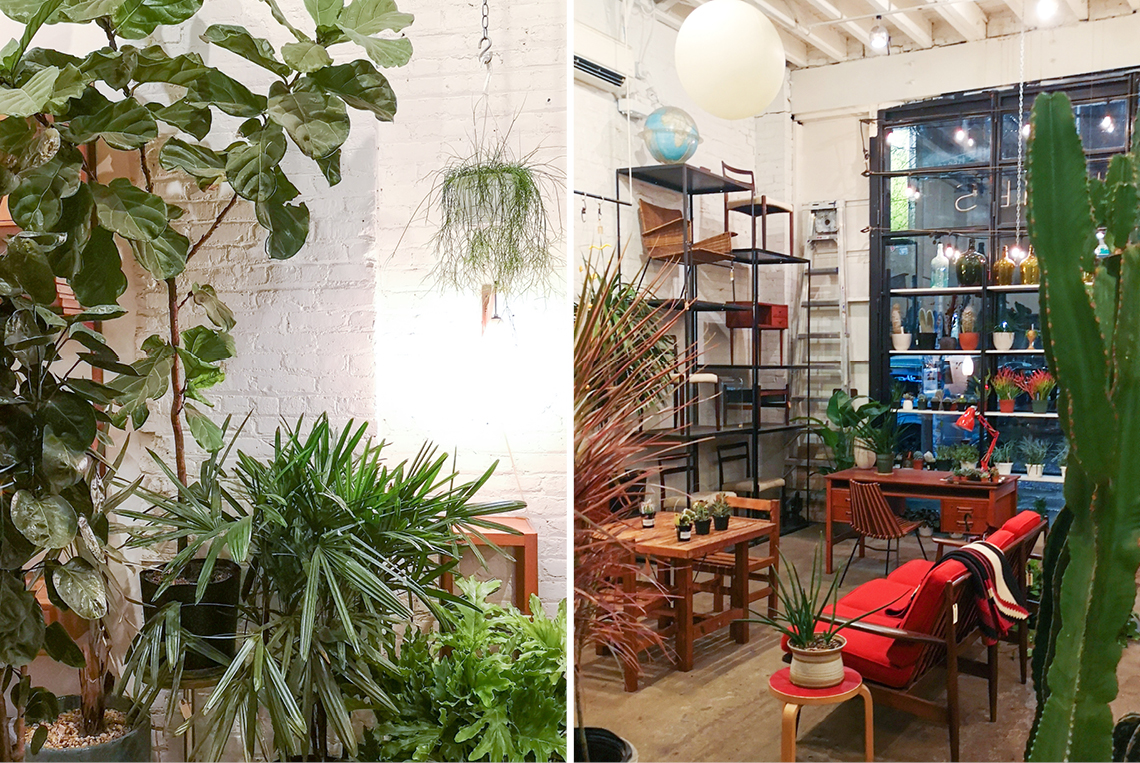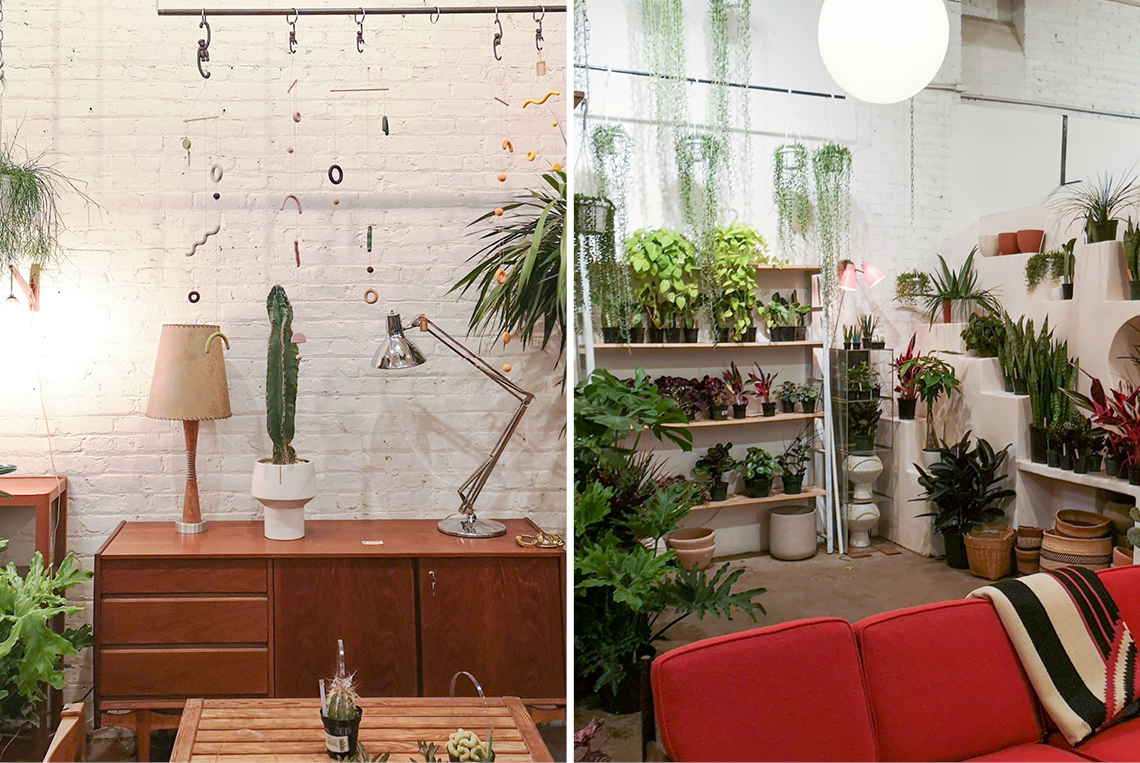 Other Times Vintage – 48 Bogart St – Brooklyn, NY 11206
__________________________
If there is one shop that doesn't need an introduction, it's The Sill. They are the best in online marketing and make ordering plants online so easy! They propose the most easy going common houseplants, delivered in their own The Sill ceramics. We visited both locations, on in the Upper Westside, the other one in Chinatown. They just opened a shop in Los Angeles as well. Welcome to The Sill jungle!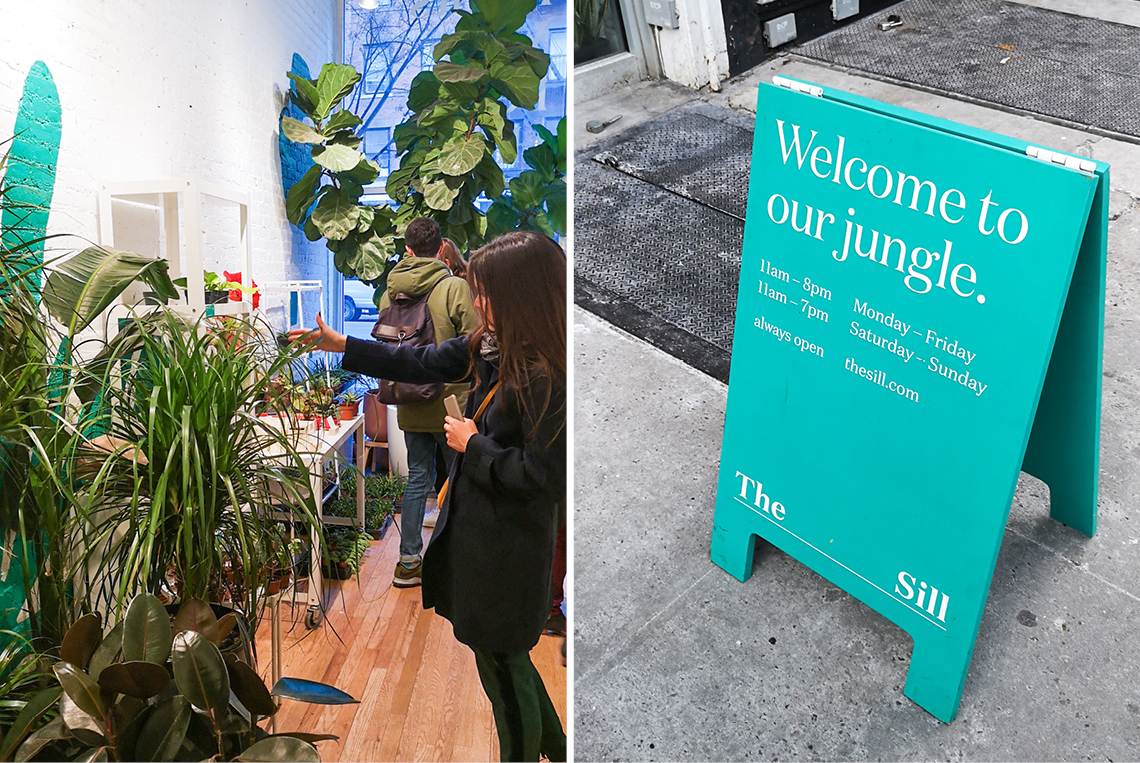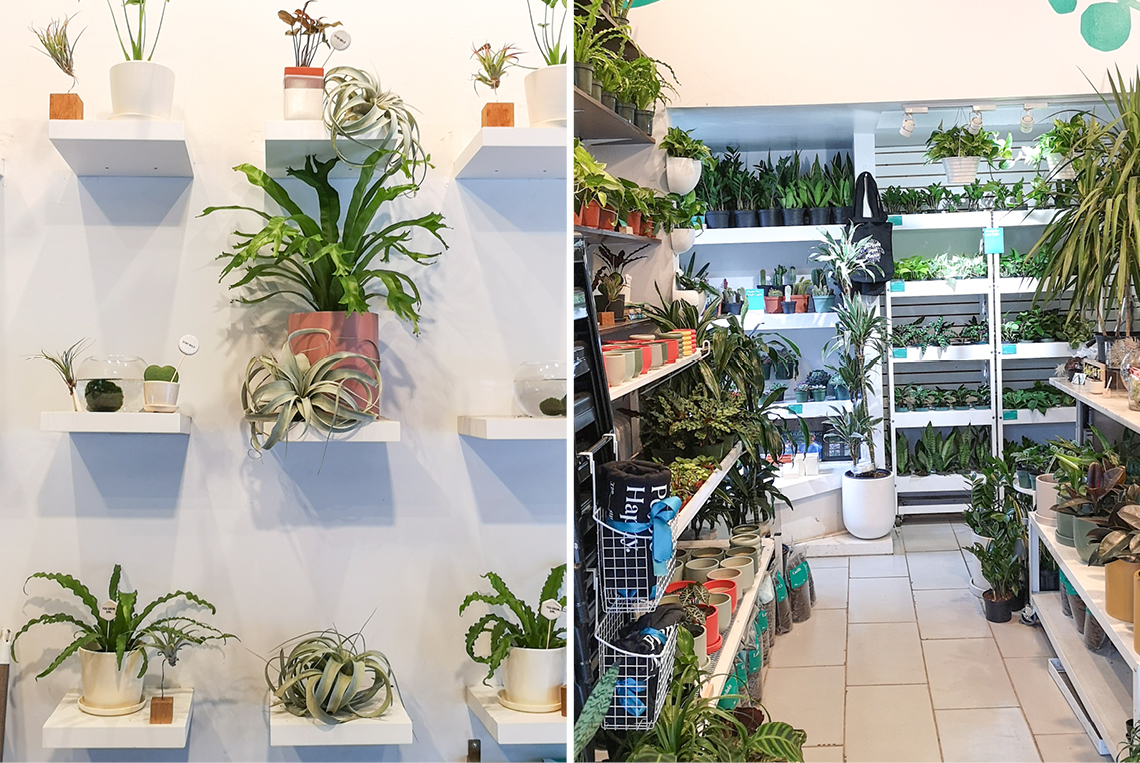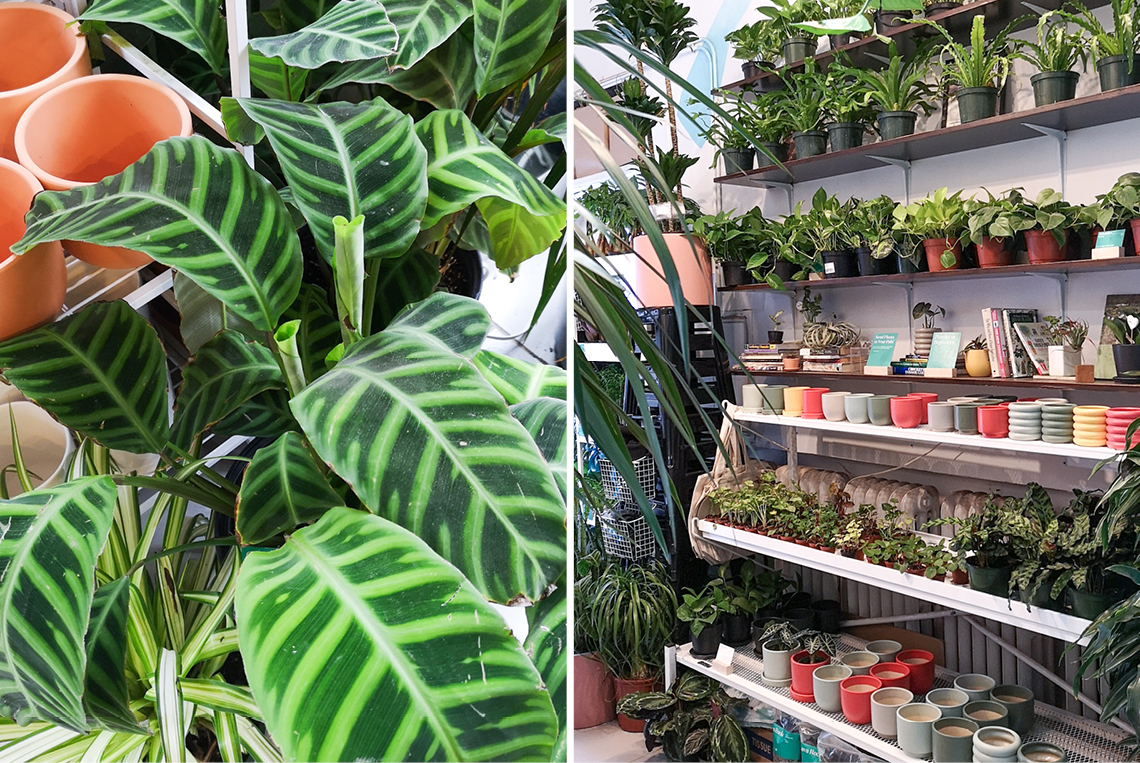 The Sill – 84 Hester Street – New York, NY 10002 & 448 Amsterdam Ave – New York, NY 10024  (new location in LA: 8125 W 3rd Street)
__________________________
Also in China town: this not very fancy, but oh-so-interesting Plant shop called Dahing Plants where our friend Brian took us one night before a just-as-fancy meal (Mac & Cheese spring rolls anyone?!). At Dahing Plants they have a surprising selection of bigger plants, like the XL blooming Jade plants you see in the picture below, for hard-to-beat prices. Definitely worth a visit when you're looking for something big and affordable in New York: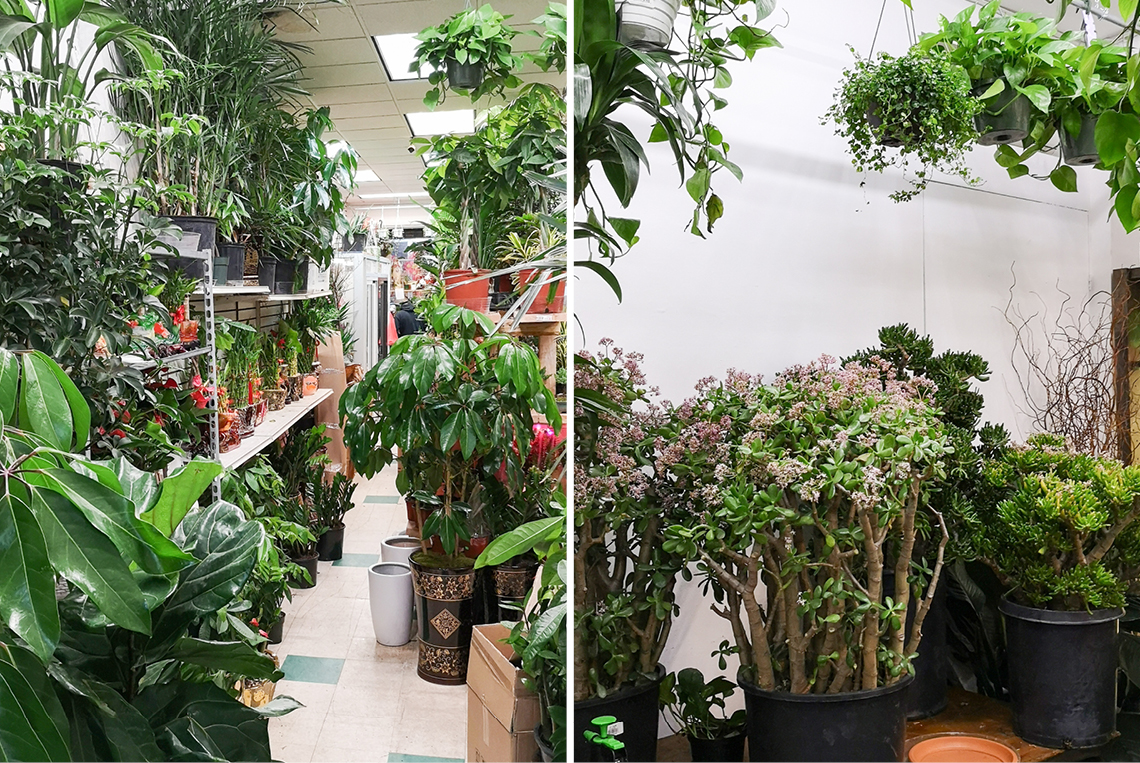 Dahing Plants – 289 Grand St, – New York, NY 10002
__________________________
Plant shopping makes you hungry! Time for a break and indulge in a green café, like at Stonefruit Espresso in Brooklyn. Yummy food and drinks that you can enjoy at the large communal table in the back where you can create your own bouquet of dried flowers, buy a new houseplant, find nice planty accessories, like the pins and keyrings by our friend Samantha from Hemleva.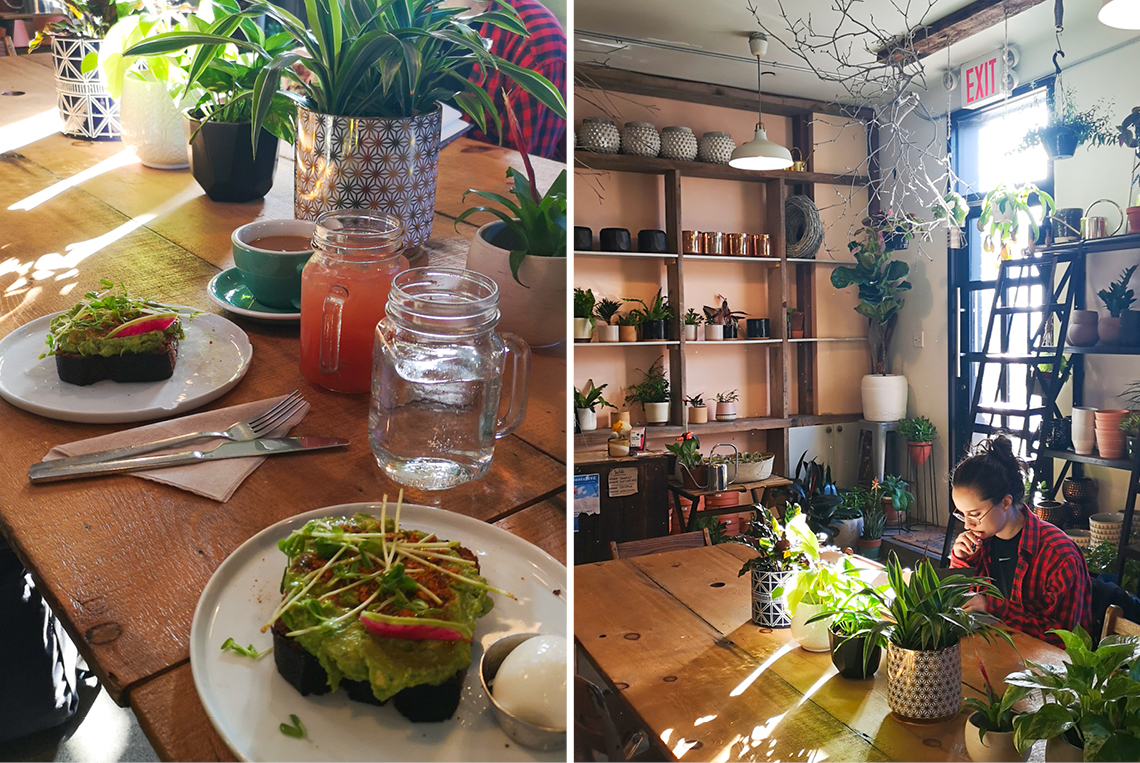 Stonefruit Espresso – 1058 Bedford Ave – Brooklyn, NY 11205
__________________________
In the back of the Williamsburg location of Juice Generation you'll find a huge glass window that gives you a peek into a large urban jungle with real tropical plants. A good idea they put all plants behind glass, because you could get tempted to snap a cutting of one of these 😉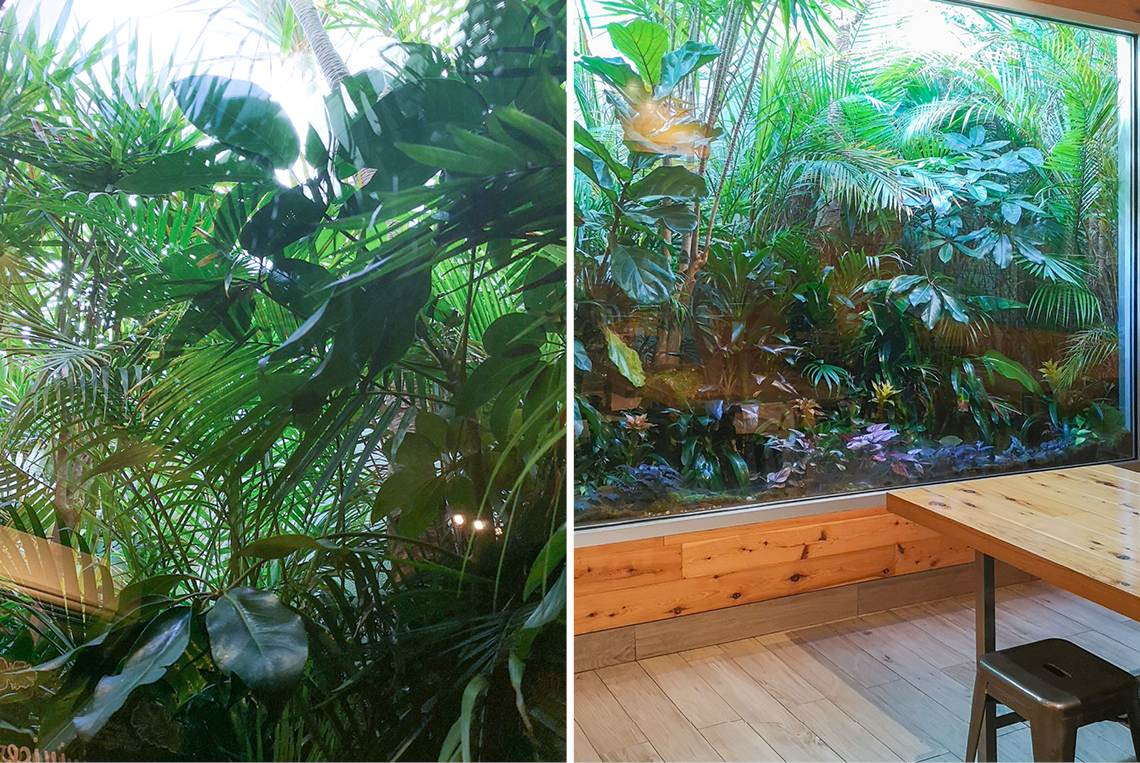 Juice Generation – 210 Bedford Avenue – Brooklyn, NY 11249
__________________________
The best freshly roasted coffee, with a large vertical garden with as a backdrop? Go to Devoción Coffee. They roast their own coffee blends, their vertical garden features 150 Colombian native coffee plants and their granola bar is to die for!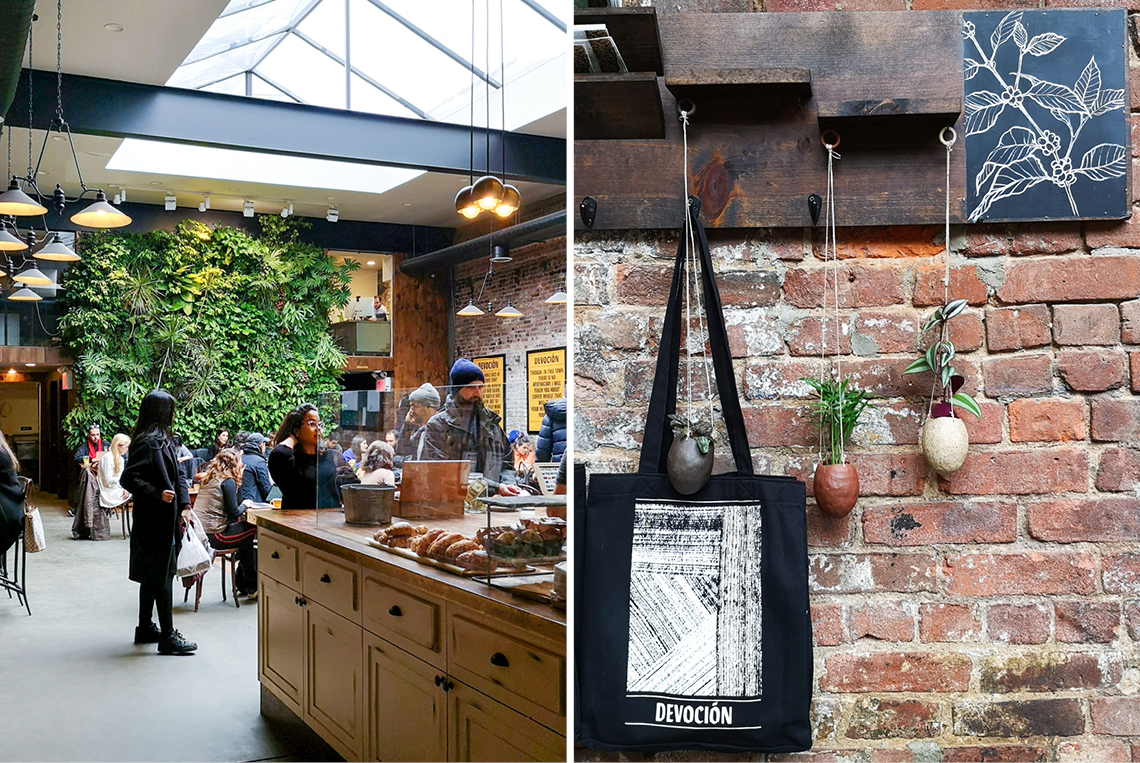 Devocíon – 69 Grand St. (at Wythe) – Brooklyn, NY 11249
__________________________
At Little Park restaurant, in the heart of TriBeCa, they serve seasonal food that highlights local farmers, anglers, vintners, ranchers and foragers. From farm to table, in a nice setting with lush Golden Pothos that create a green curtain in front of the windows: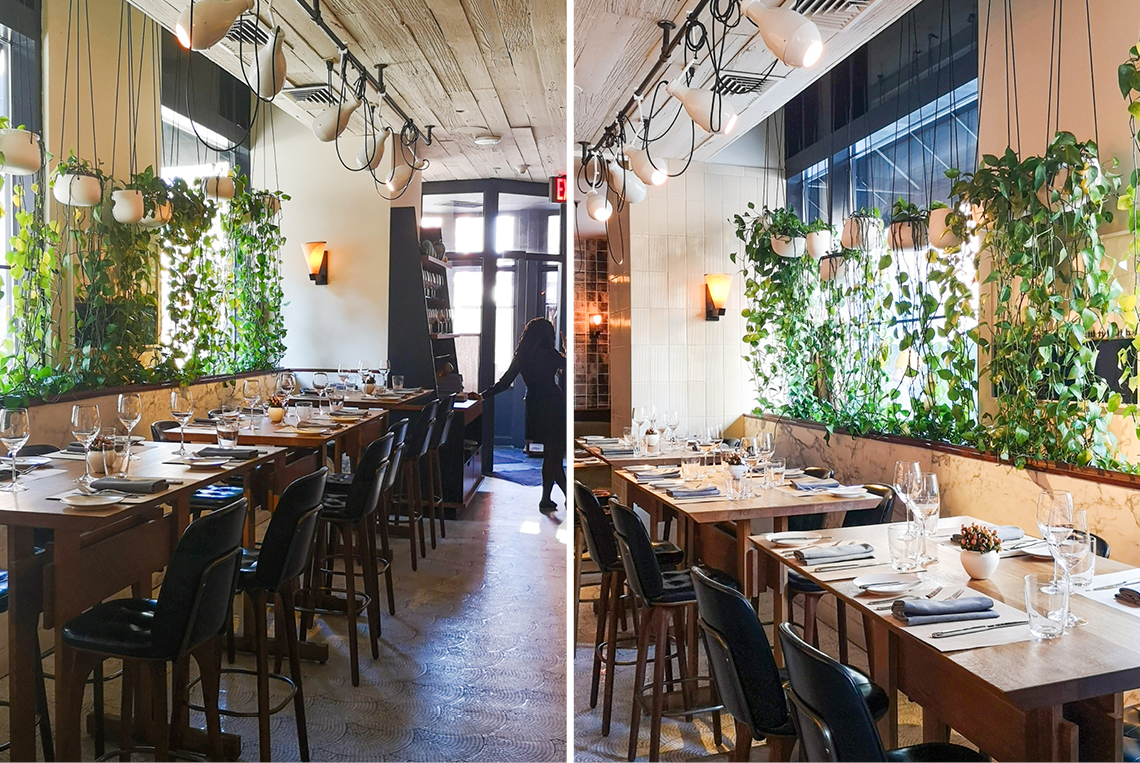 Little Park Restaurant – 85 West Broadway – New York, NY 10007
__________________________
If you are looking for a fun place to stay in Brooklyn, consider renting a room in The Funky Loft. We met with owner Marcella in her spacious loft in the heart of Bushwick, Brooklyn that looks like a quirky and funky home where you can feel at home, play some funky tunes on the piano, admire the many thriving plants, hang out with other guests, pin your hometown on the custom map, or just relax in your own private room. Funky and good vibes guaranteed!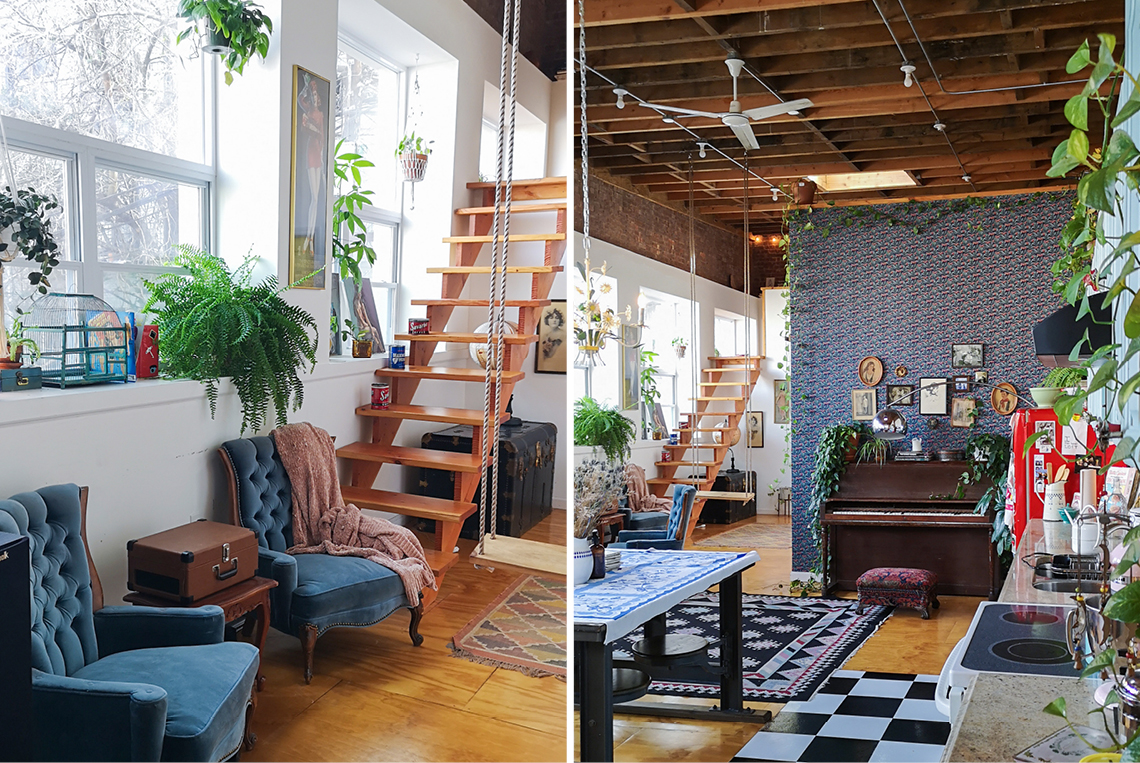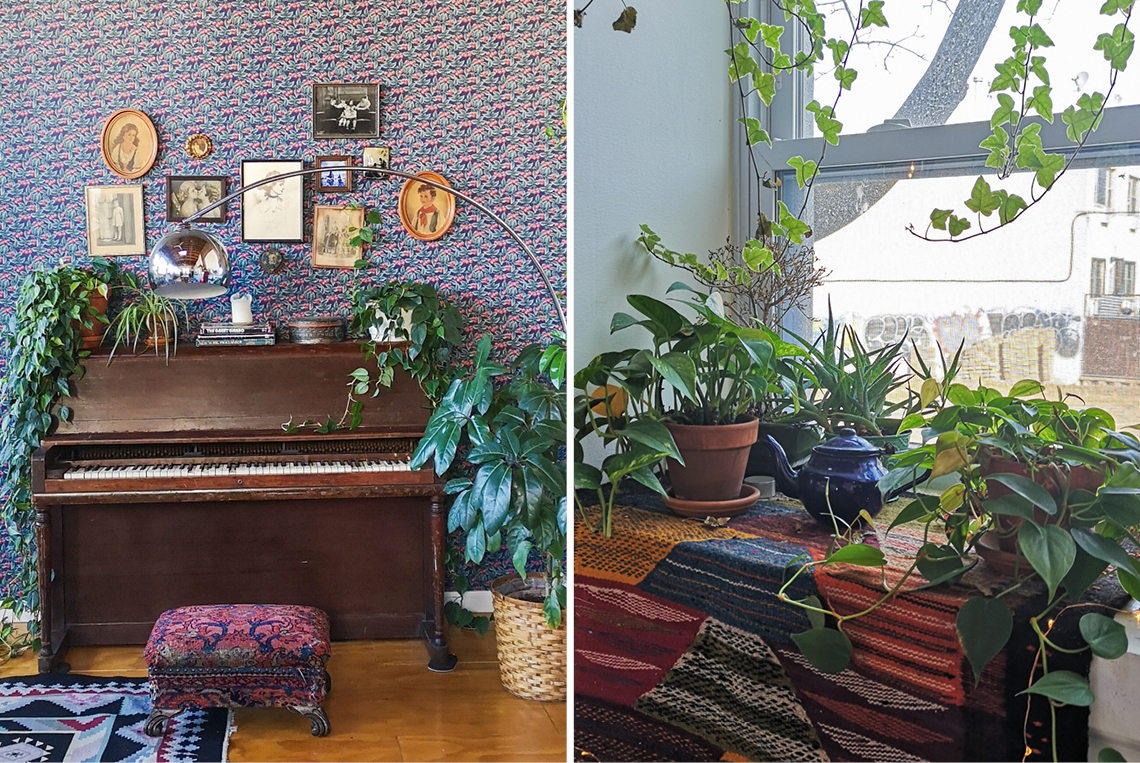 The Funky Loft B&B – Bushwick Brooklyn, NY
__________________________
When you think of visiting your dentist, you probably don't think of cool plants, stylish design, a home-y feel or staff that makes you feel like friends, Yet, it is exactly what you'll get when your dentist is called Dr Jennifer Plotnick. Her state-of-the-art practice on Grand Street (neighboring Sprout Plant Shop), called Grand Street Dental makes you want to hang out at your dentist every day. Their selection of plants by the famous Putnam Flowers, are just gorgeous.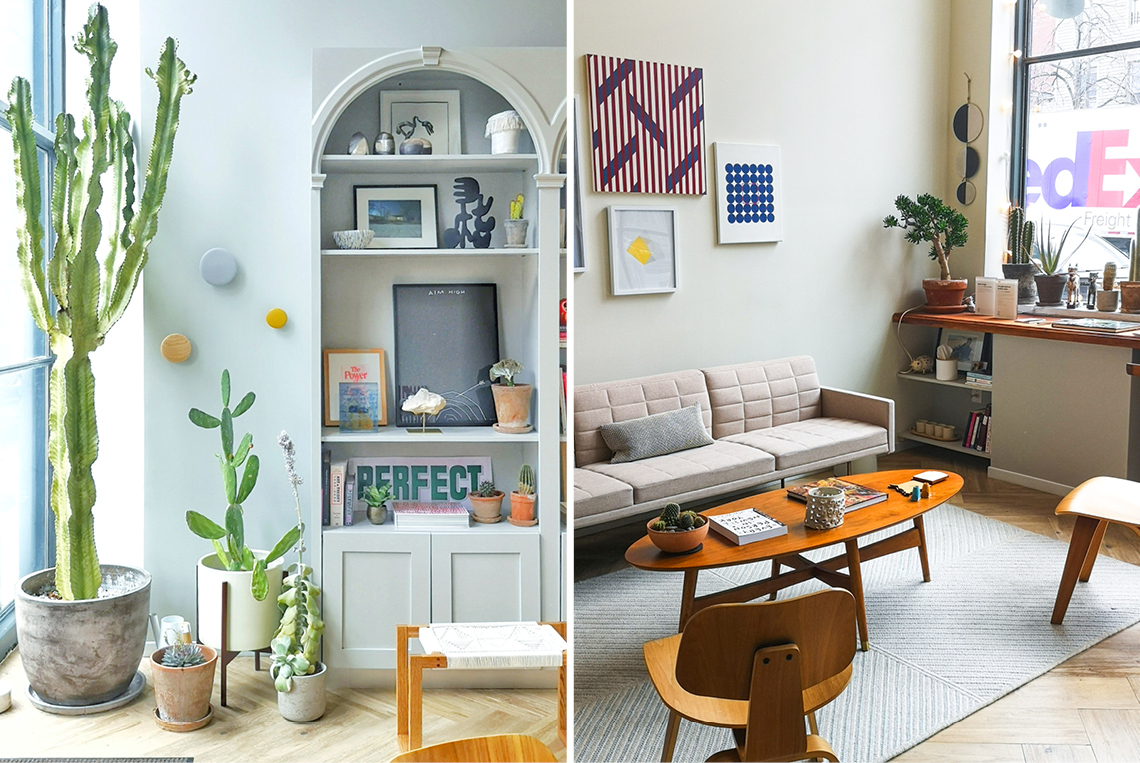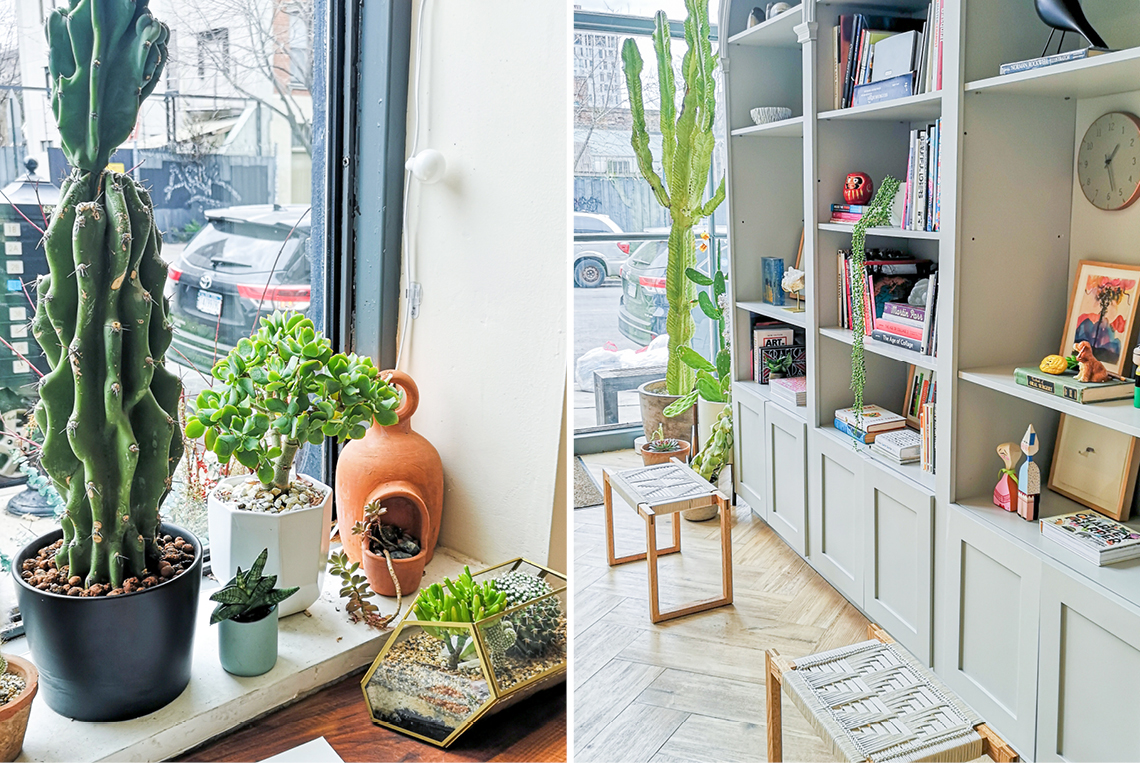 Grand Street Dental – 57 Grand Street – Brooklyn, NY 11249
__________________________
And one thing that is on our list wherever we go: to visit the local botanical garden. The NYC Botanical Garden requires some time to get there, but a visit to the Brooklyn Botanical Garden was easier to fit into our schedule. The park outside was in full hibernation mode, but inside the greenhouses it was green and lush, humid and dry. Very inspiring and very Instagrammable too!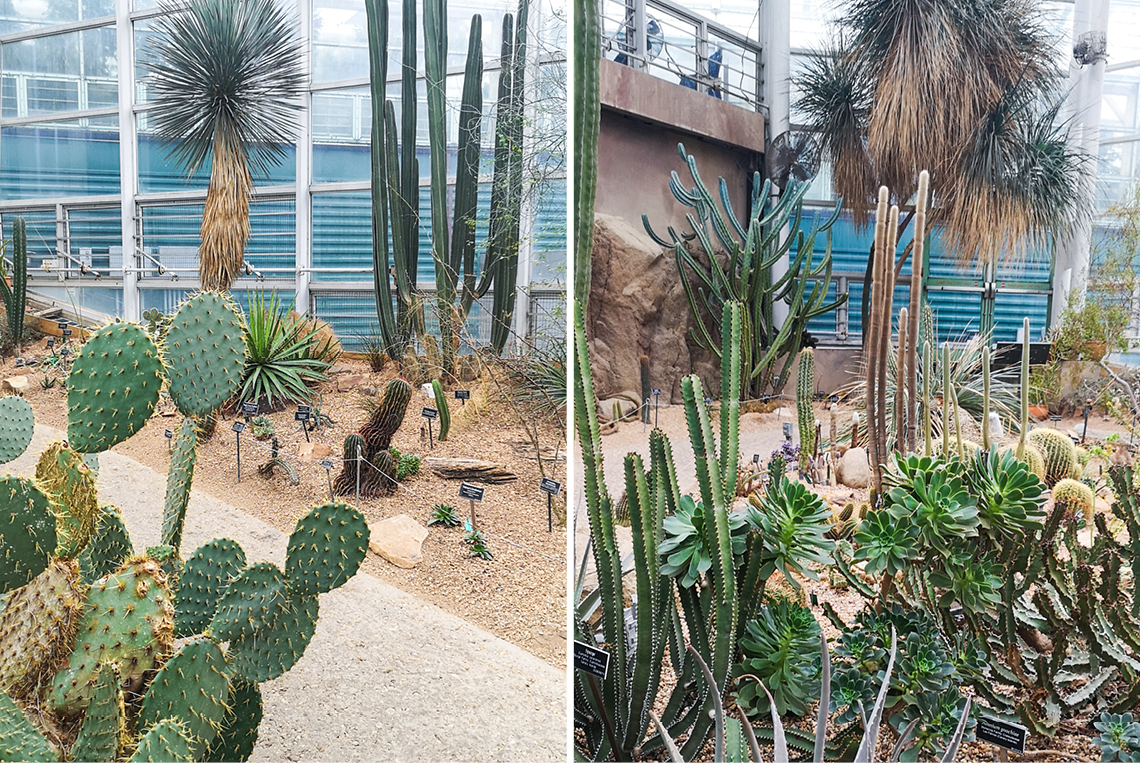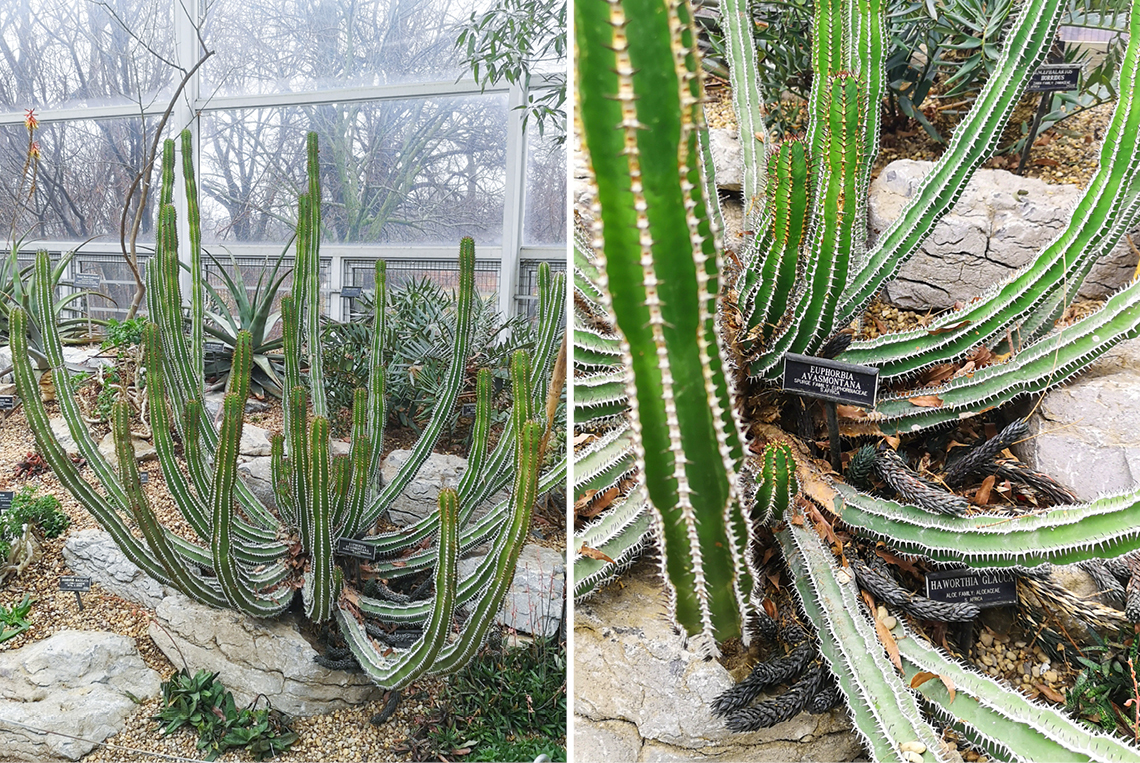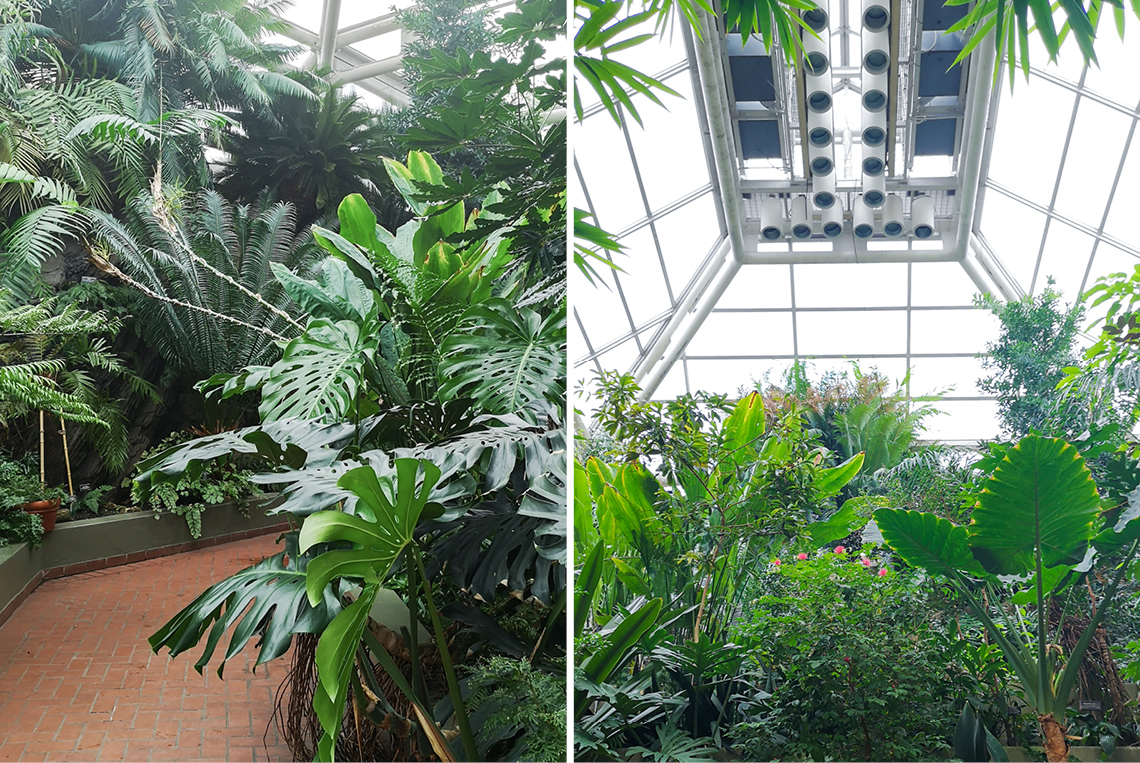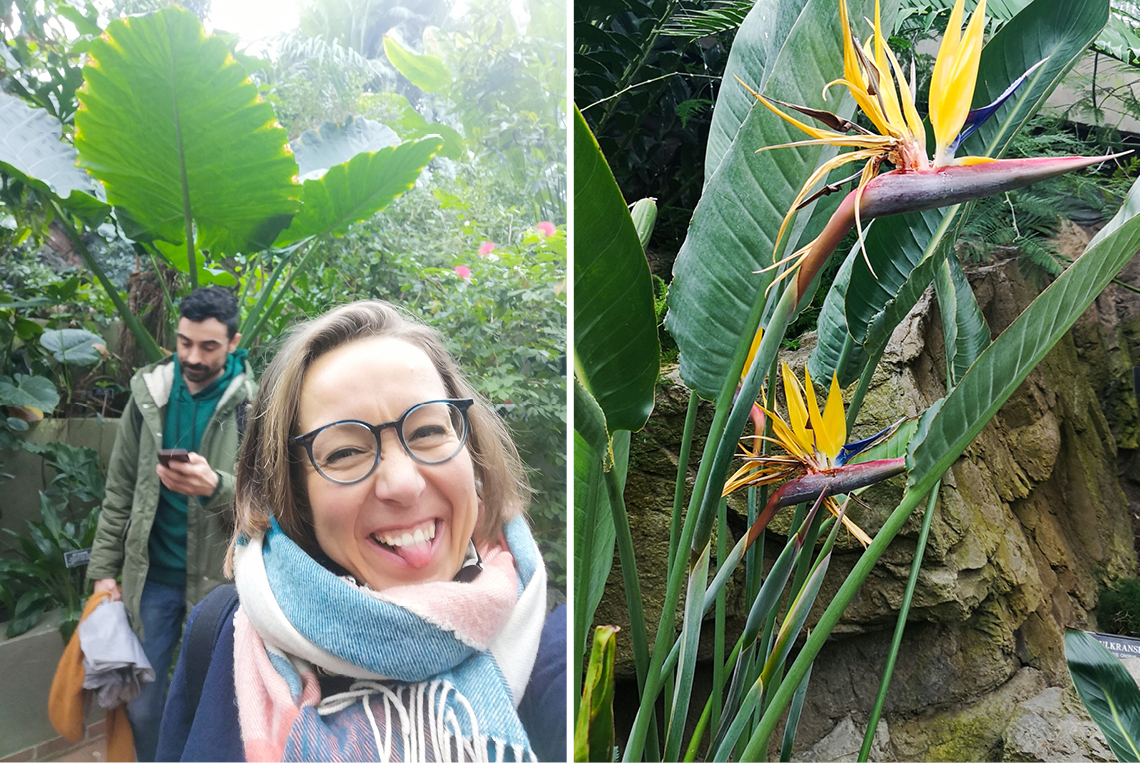 Brooklyn Botanic Garden – 455 Flatbush Avenue or 990 Washington Avenue – Brooklyn, NY 11225
__________________________
Other green places in NYC you shouldn't miss:
– The High Line – An elevated freight rail line transformed into a public park on Manhattan's West Side. It wasn't very green when we visited this February, but we were told it's really nice in Spring and Summer.
– Rooted – 81 Quay St – Brooklyn, NY 11222, USA – The guys that deliver a curated collection of pre-potted plants delivered straight to your door, now also have a brick & mortar shop!
– Greenery NYC – 91 West Street – Brooklyn, NY 11222 – Freshly opened, just days after we left NYC: the world's first biophilic design store in Greenpoint, Brooklyn.
Photography by Urban Jungle Bloggers
This blogpost was not sponsored, we genuinely enjoyed all these green spots!