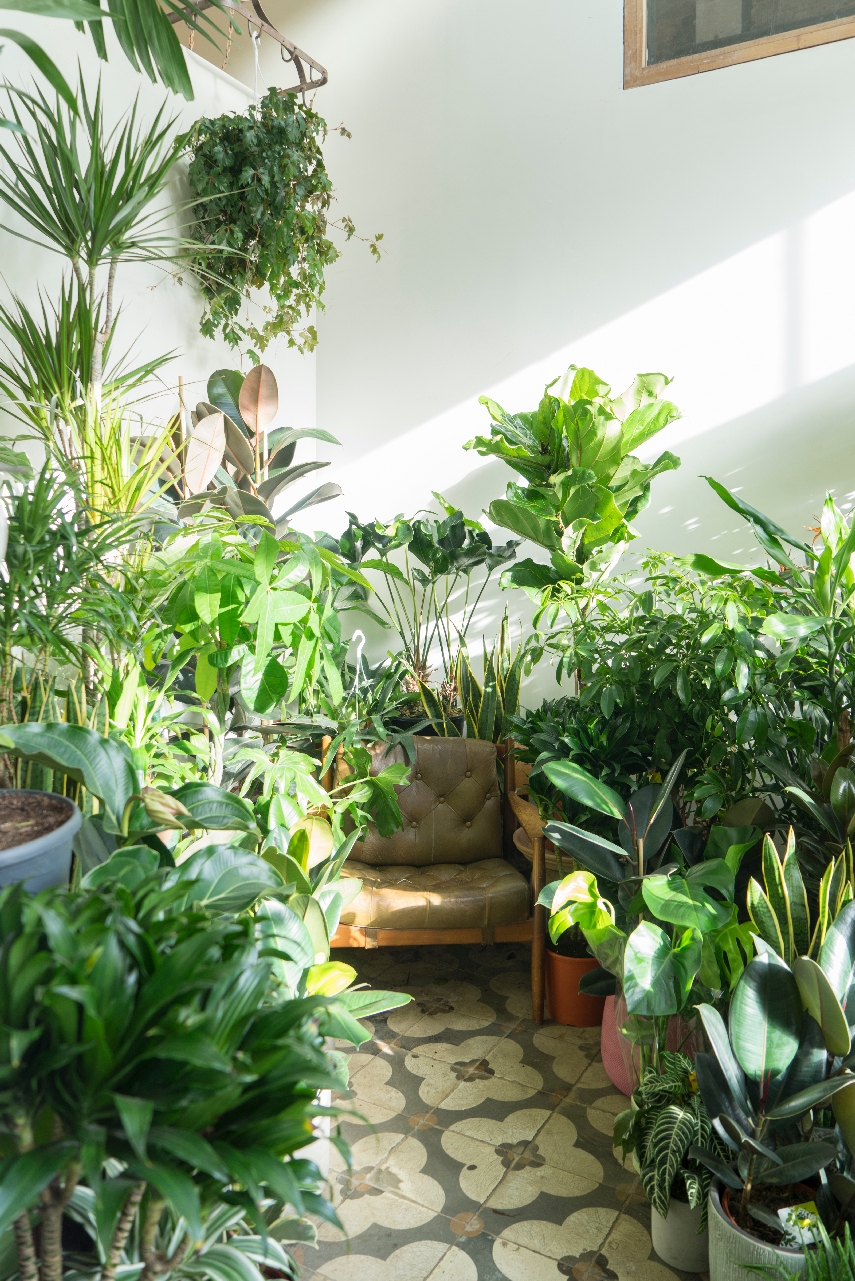 Whether you have been following along on Instagram, read our Urban Jungle book, or been to London in the past few years: it's nearly impossible that you've never seen the Insta-famous armchair above. It is located in the back of London's most well-known plant shop called Conservatory Archives in Hackney, East London. Jin Ahn and her partner Giacomo, opened the doors of their shop at the end of 2015. Jin studied graphic design in Seoul, South Korea and worked as a fashion designer. At the age of 30 it was time for a radical life change: she decided to move to the UK and study English in Edinburgh, and then got her Bachelor of Science in Horticulture in Essex where she met Giacomo. Most students there focused on landscape gardening, but as a big city girl from Seoul, Jin knew she couldn't work in the British rain all day, and indoor plants seemed liked a natural choice.
And here they are a few years later: Jin and Giacomo have a thriving plant shop in East London and take care of some of the most amazing plant design and display projects in the city. They are the plant lovers behind all the greenery at the Ace Hotel and ever so many retailers, restaurants and coffee shops. Until Christmas last year, they had a Conservatory Archives pop-up shop at Liberty London and they also did the plant design of Asif Khan's Forest Installation with MINI during London Design Week. See? It's nearly impossible to miss the work of this talented team!
On a sunny and crispy cold winter day a few weeks ago, we visited the jungle-ish Conservatory Archives at 493-495 Hackney Road and today we would love to invite you for a little virtual visit: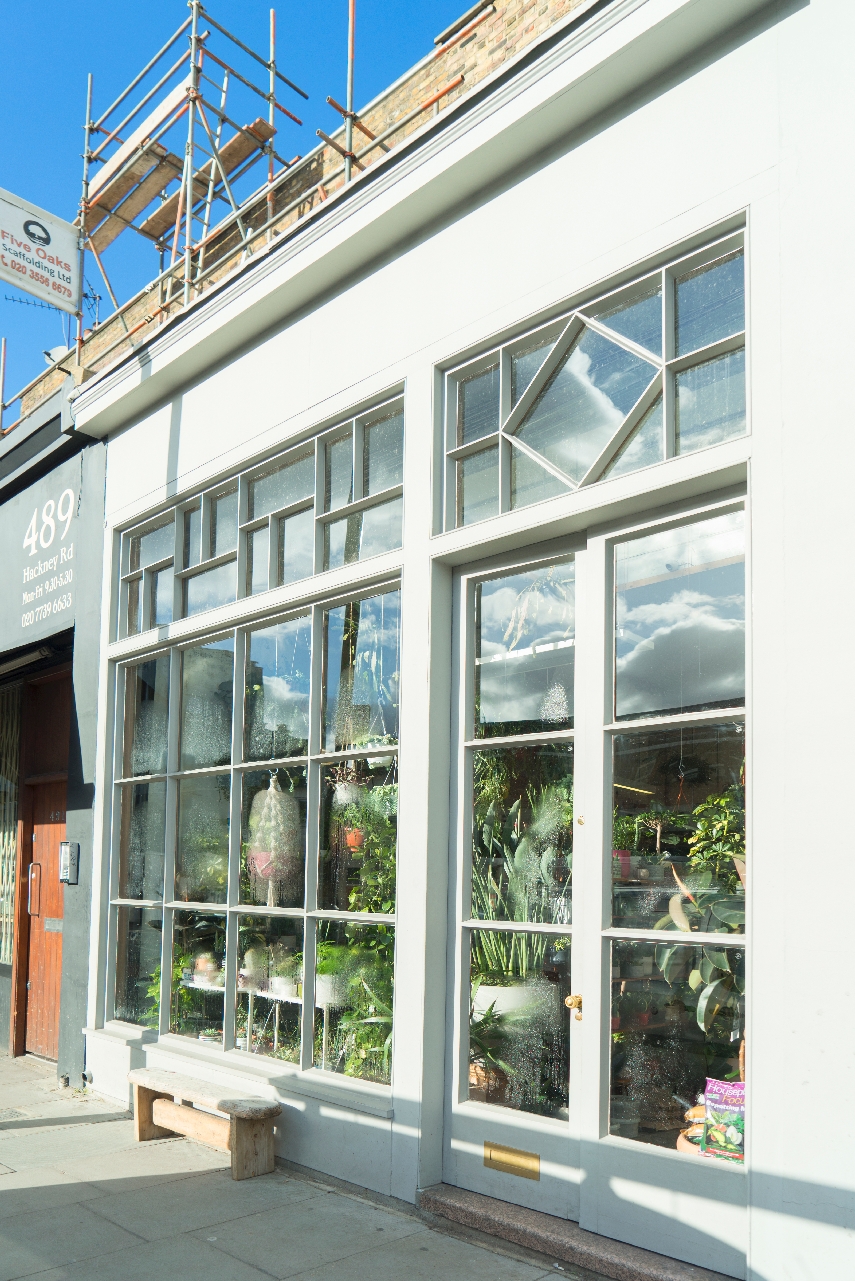 The building of Conservatory Archives originally housed one of London's oldest ironmongers from the late 18th century and is a landmark that couldn't be drastically changed. Jin decided to remodel the façade based on old photos of the ironmonger shop. The huge glass windows provide a maximum amount of light to the many plants inside, that were happily sunbathing on the day of our visit: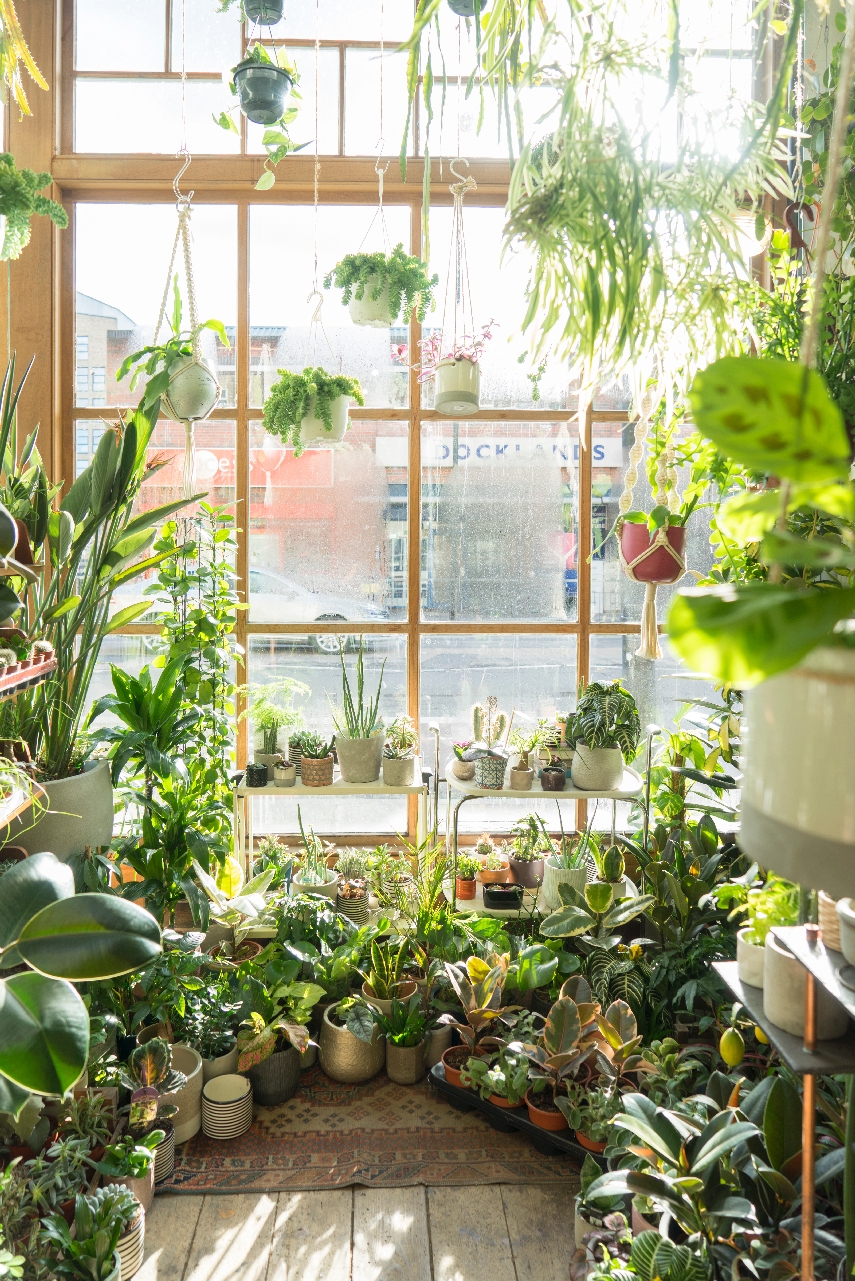 Originally the idea of Conservatory Archives was to propose a selection of vintage furniture and plants, but the plants soon took over. However, throughout the shop you'll see vintage lamp shades, industrial cabinets, laboratory glassware and an old sink found in a junk shop that became a practical workshop, in the middle of the jungle.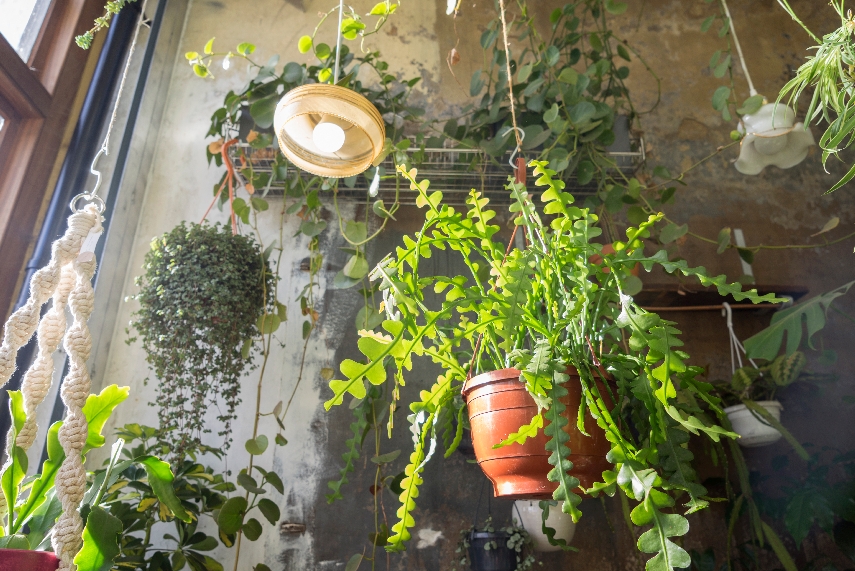 While the focus at Conservatory Archives is on plants, you can also find some matching pots for your new green friends: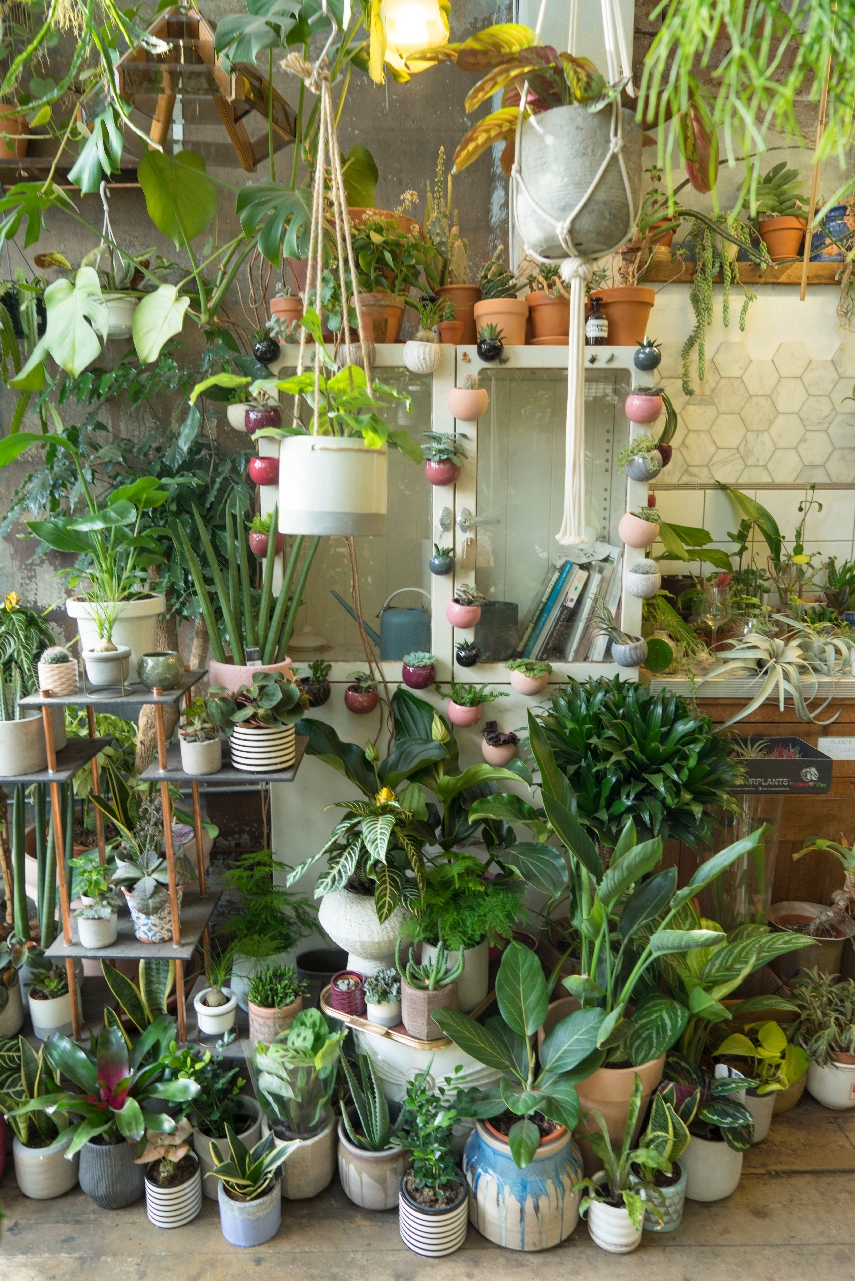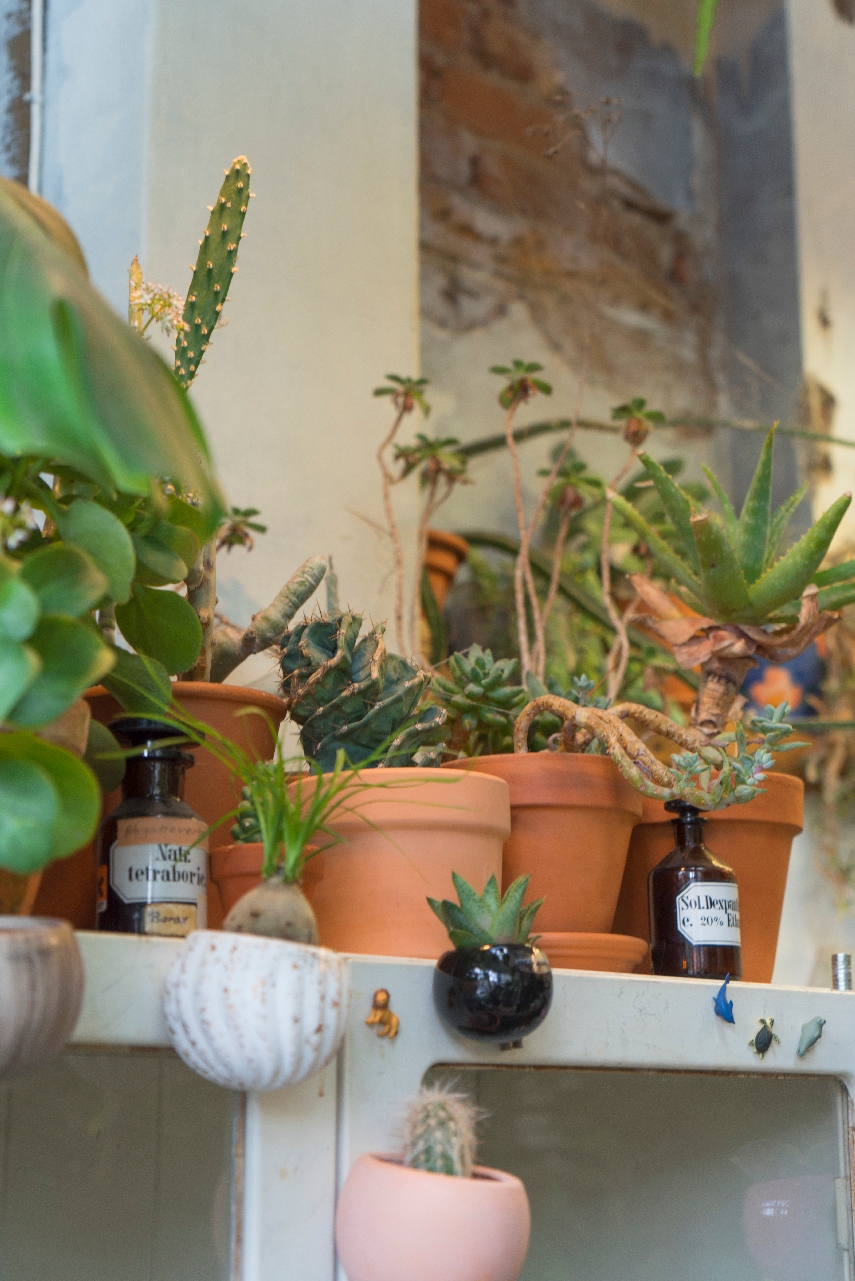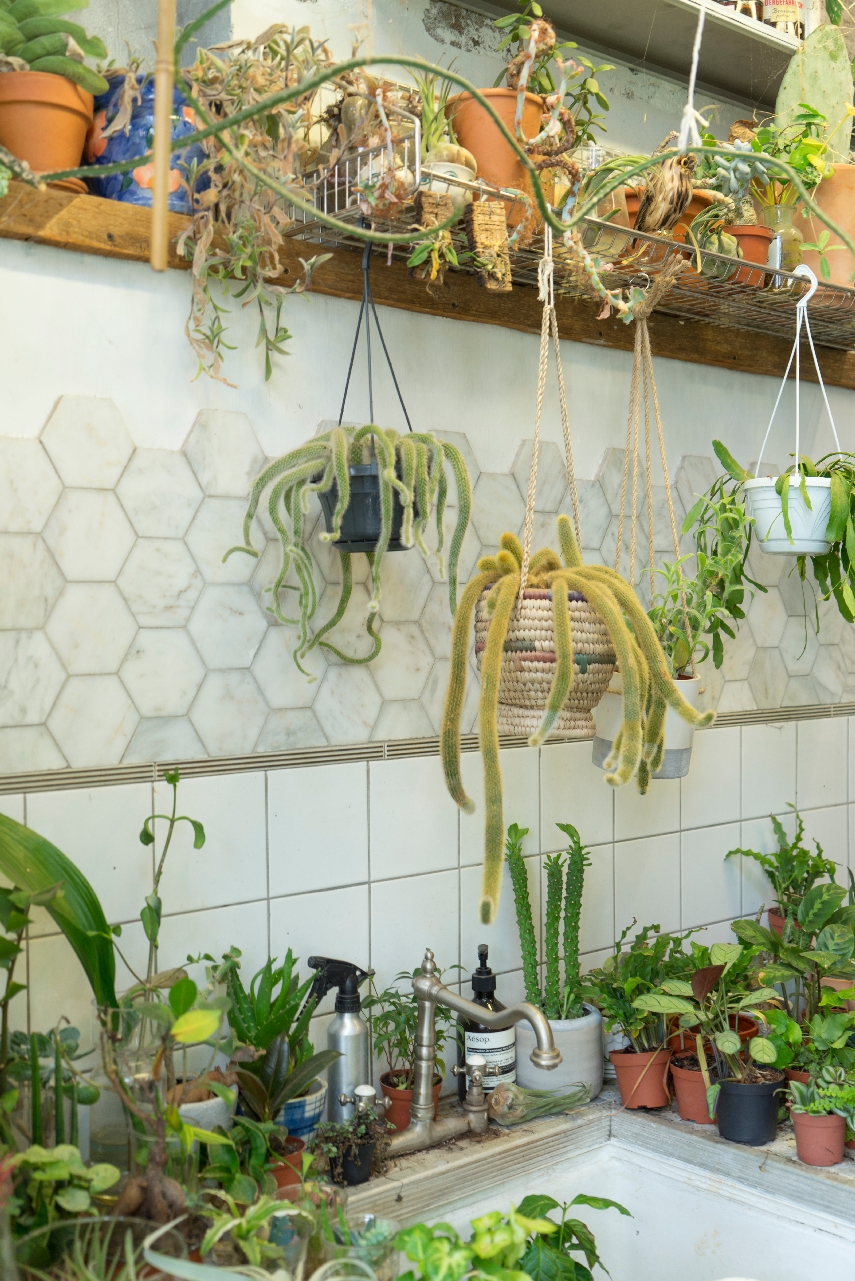 The misting & pruning station: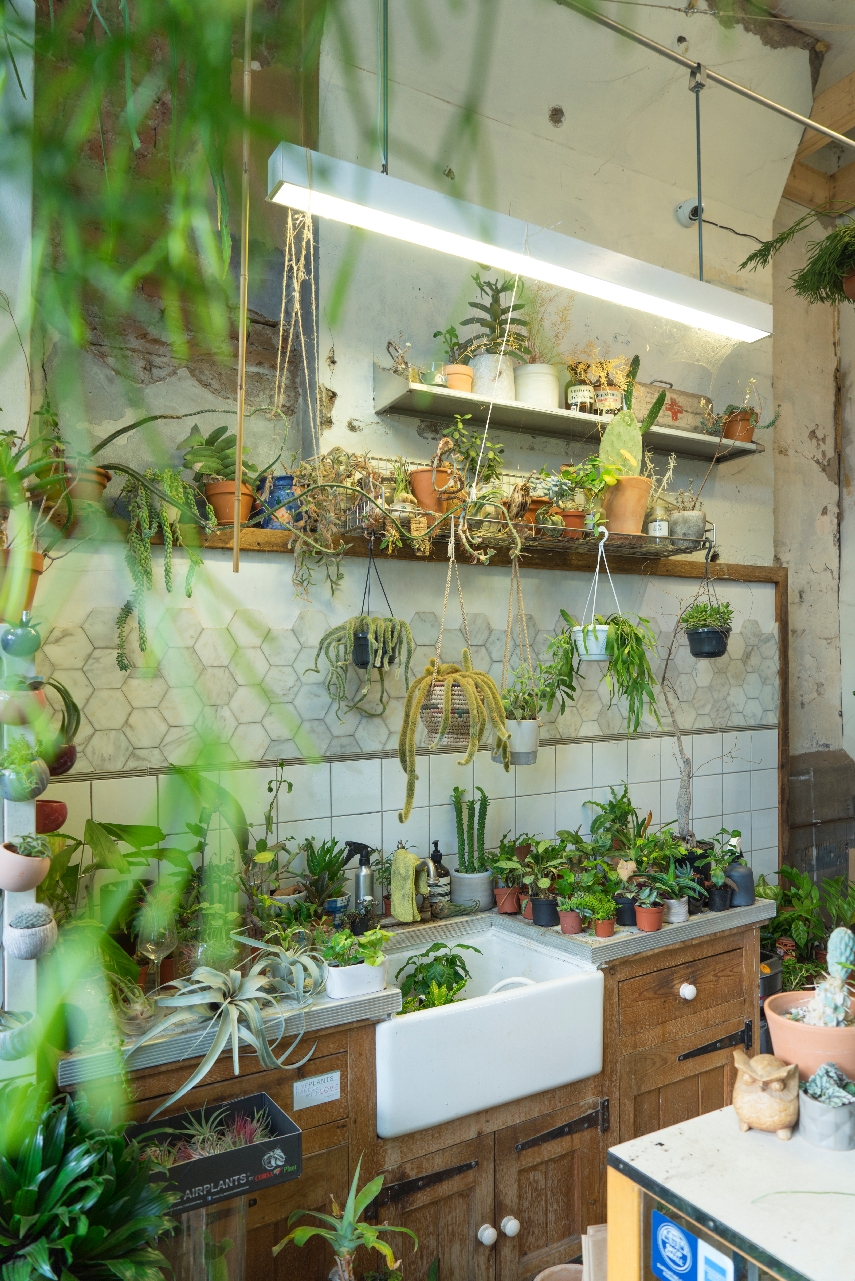 Beautiful Tillandsia airplants waiting near the sink for someone to fall in love and adopt them: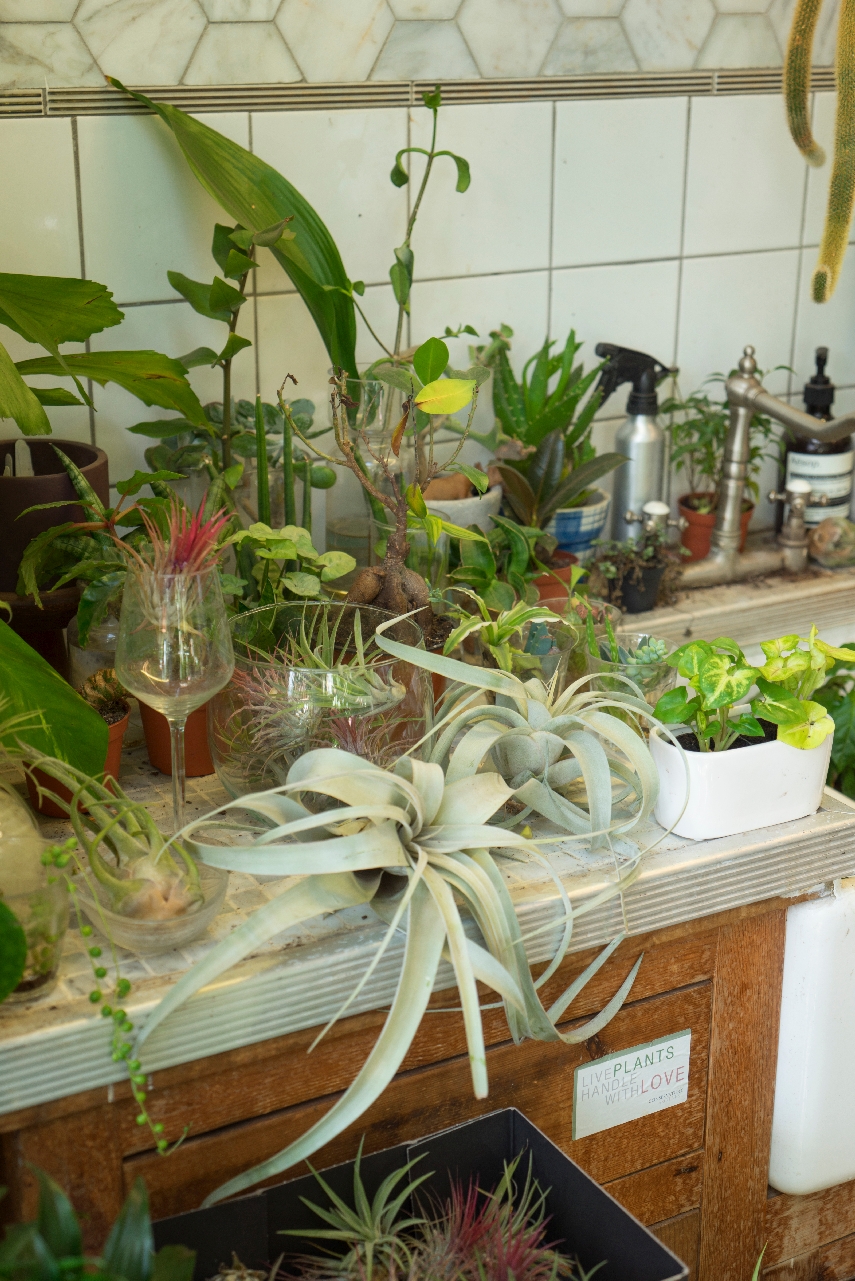 Jin and Giacomo source most of their plants from Holland, Denmark and Belgium, but also make sure to have older mature (sometimes even vintage) plants on display, for anyone who wants to add a bit more character to their own urban jungle at home. And for anyone who has the appropriate space and light conditions for it too. On top of this shelf is a gorgeous Philodendron creature that we would have loved to adopt ourselves: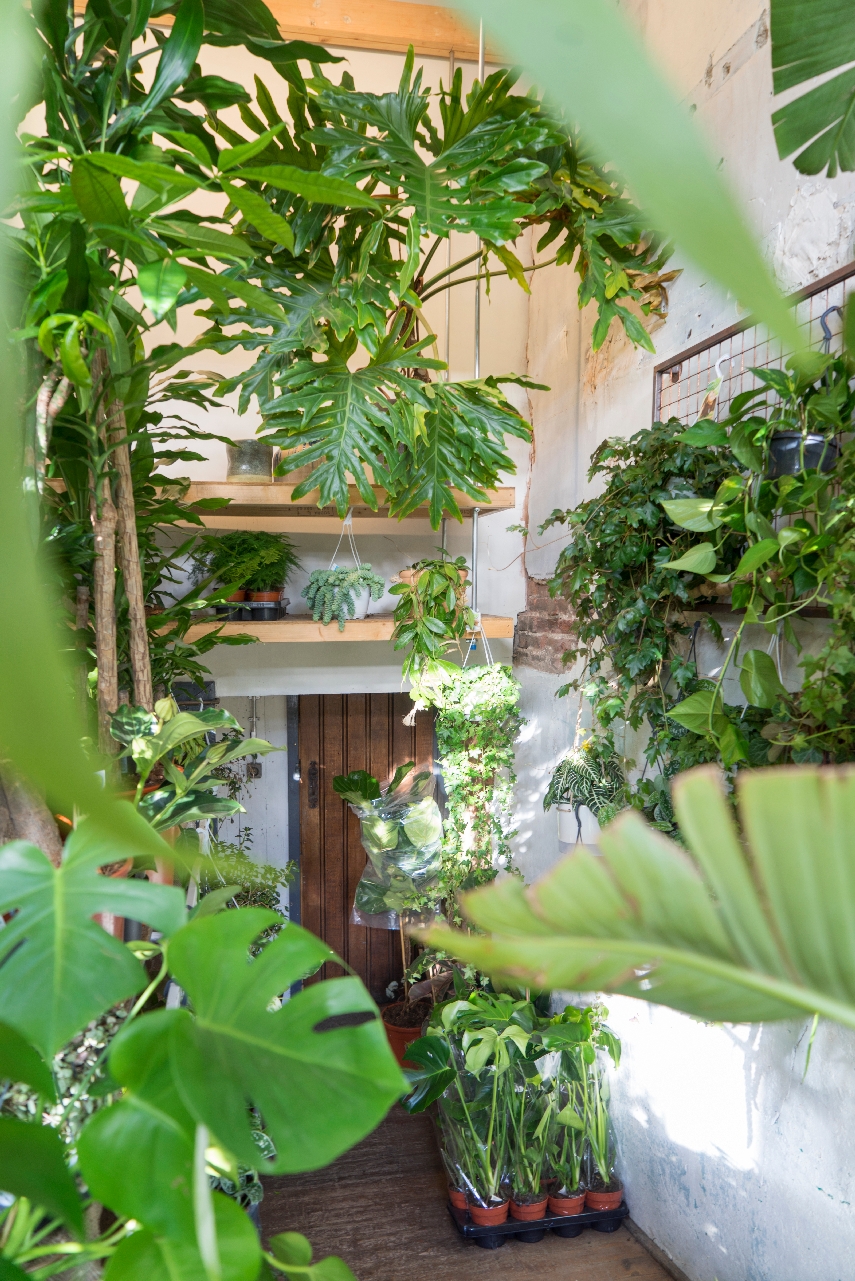 A peek through the jungle into the second room: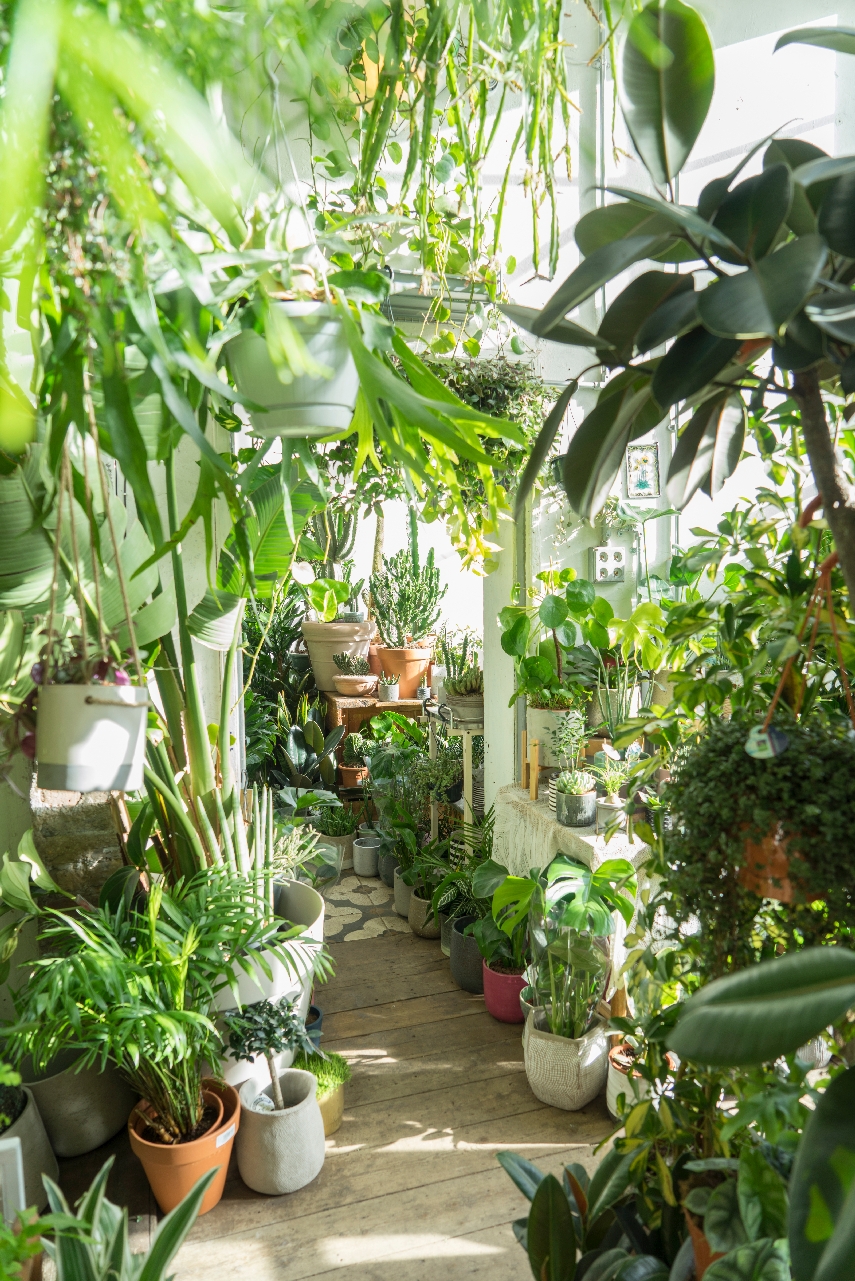 Tall cereus cacti, hairy old men and all kinds of Euphorbia enjoying the London sunshine: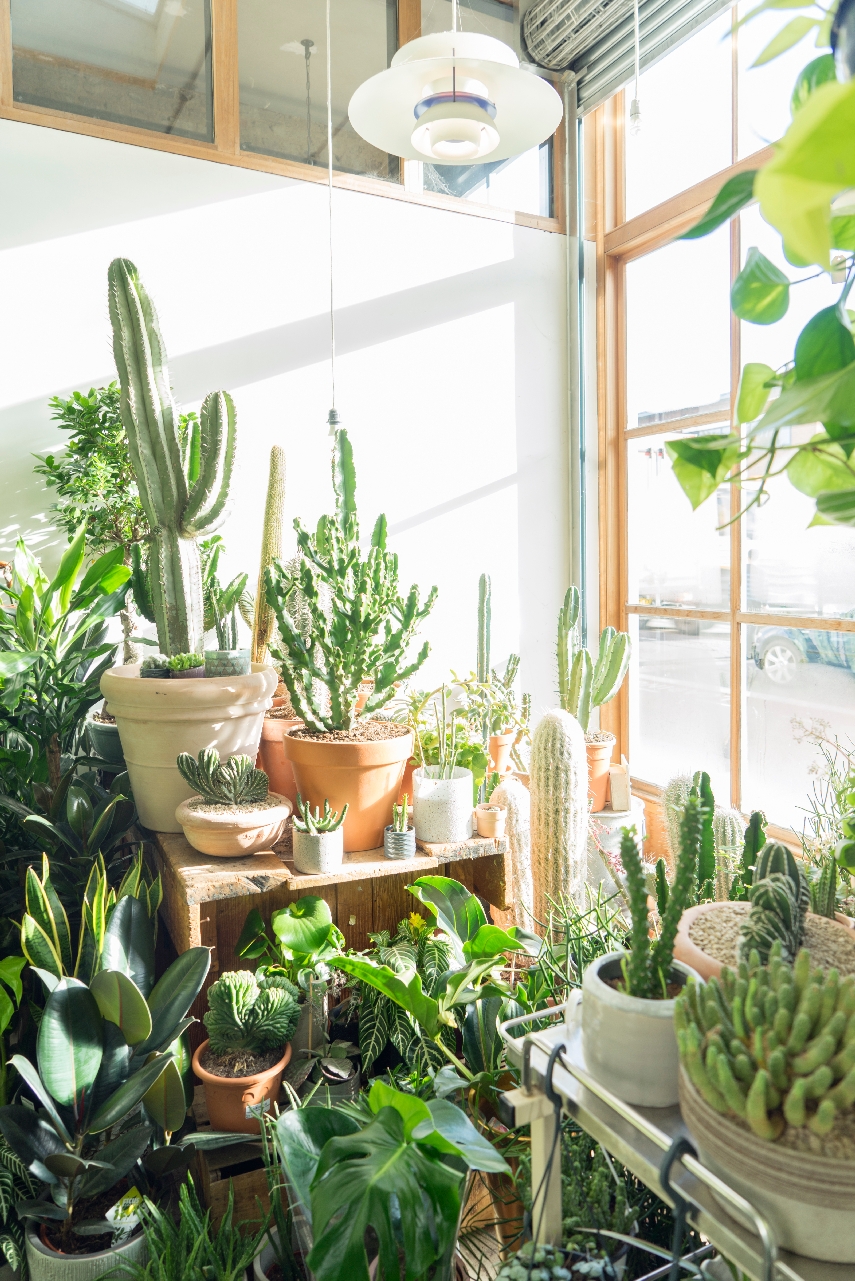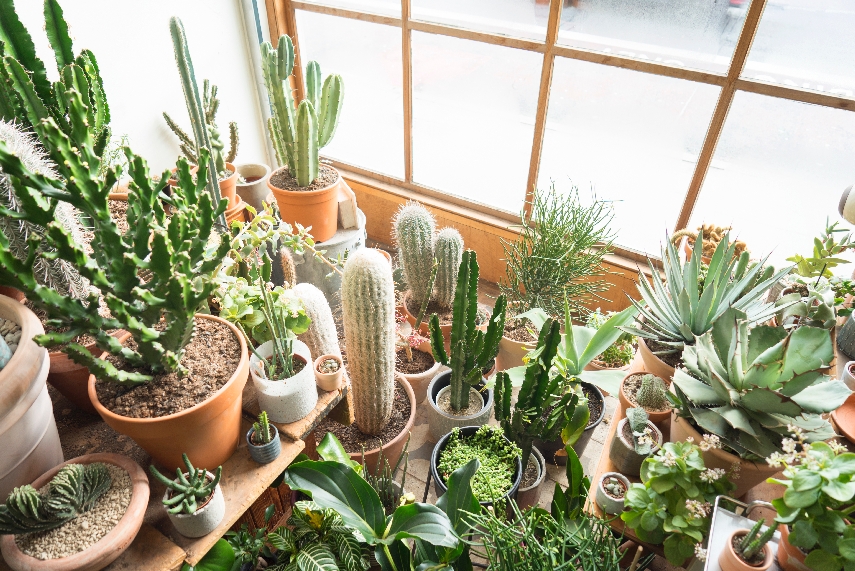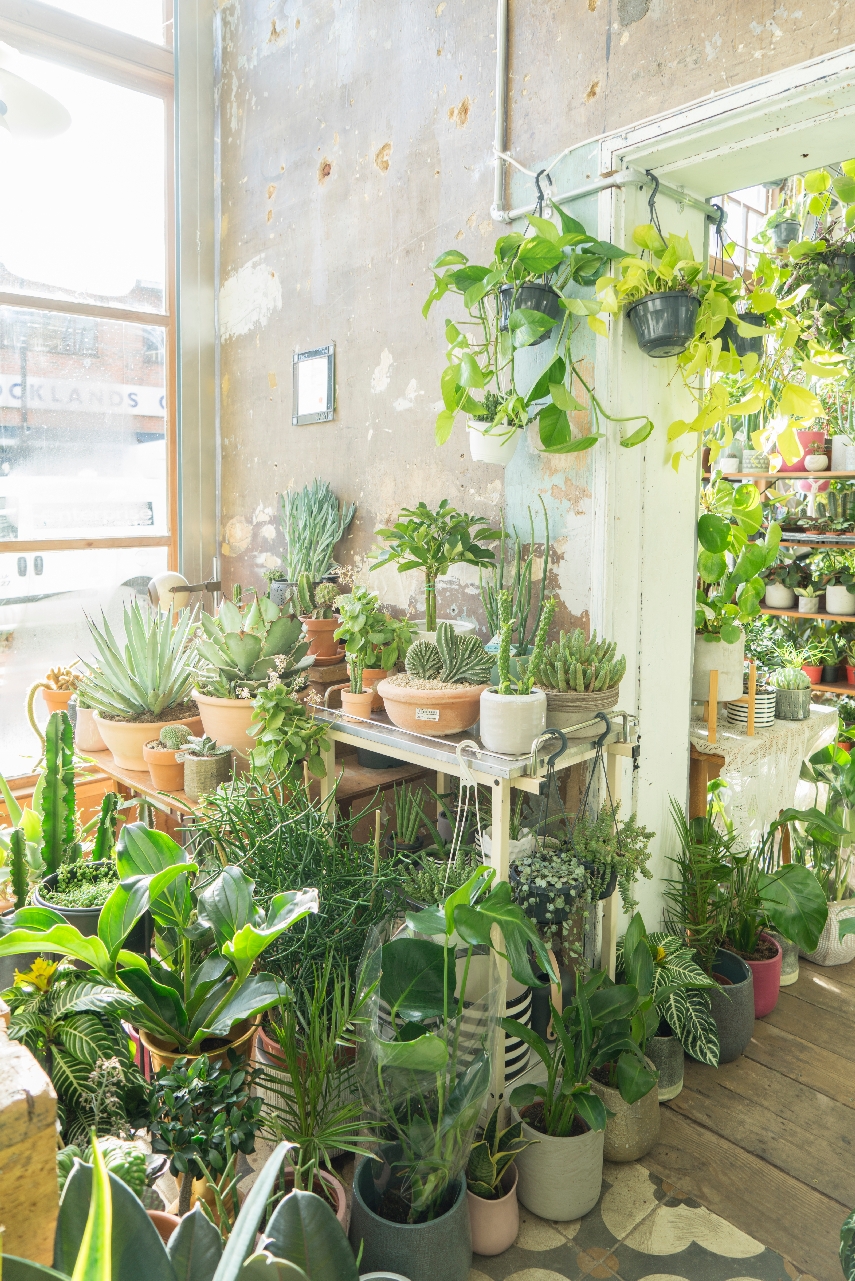 And voilà: this is it: the view when seated in the famous Conservatory Archives armchair. Don't you wish you could stay here all day?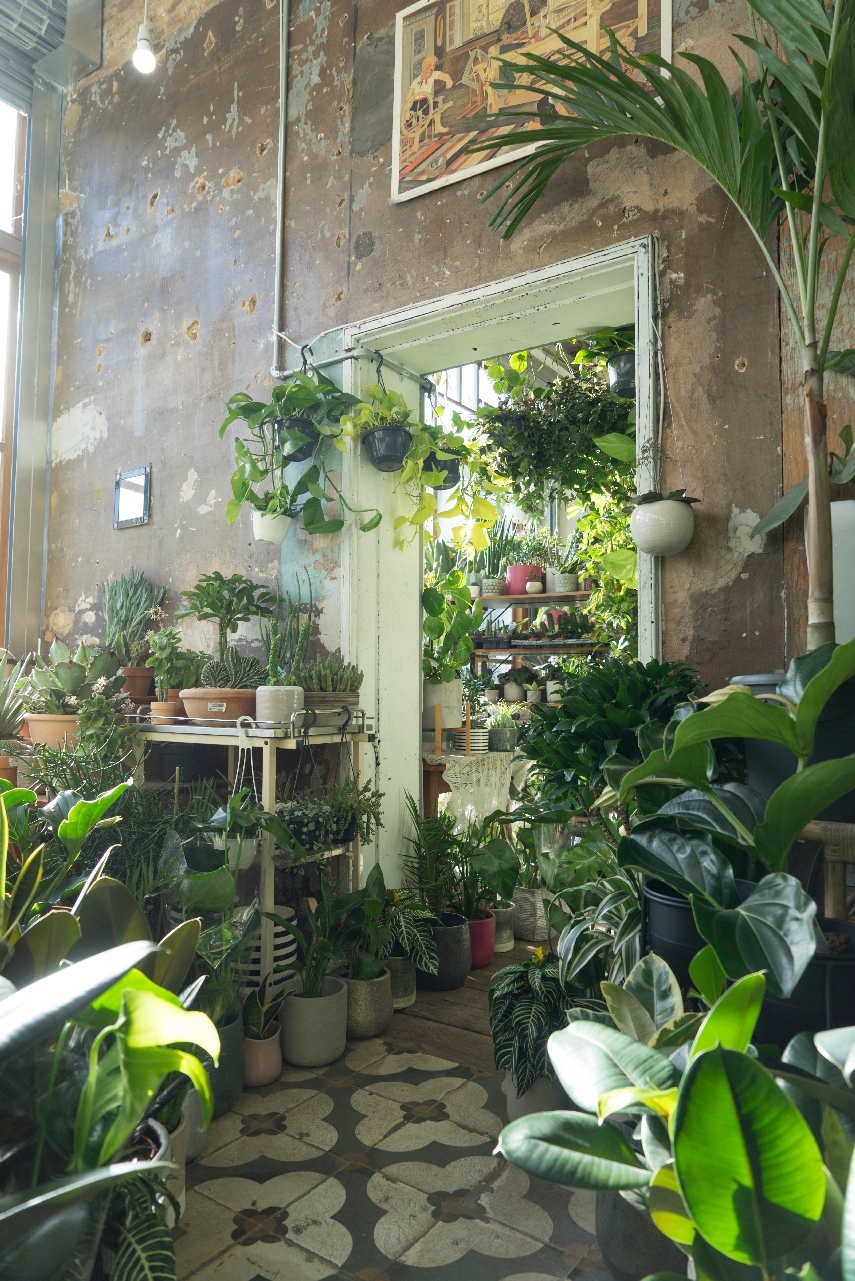 We hope you enjoyed this little virtual visit. If you do, we bet you will enjoy these plant shops too, like for example Leaf in Paris or Wildernis in Amsterdam. Foor more plant shop tips, find a list of our favorite plant shops around the world in the Urban Jungle book, or check our Instagram @urbanjungleblog on Saturdays, because weekends are for plant shopping, don't you think?
If you happen to be in London today: Conservatory Archives is open until 7pm today! (Tuesday – Friday 12.00pm till 19.00pm, Saturday – Sunday 11.30am till 19.00pm, closed on Mondays).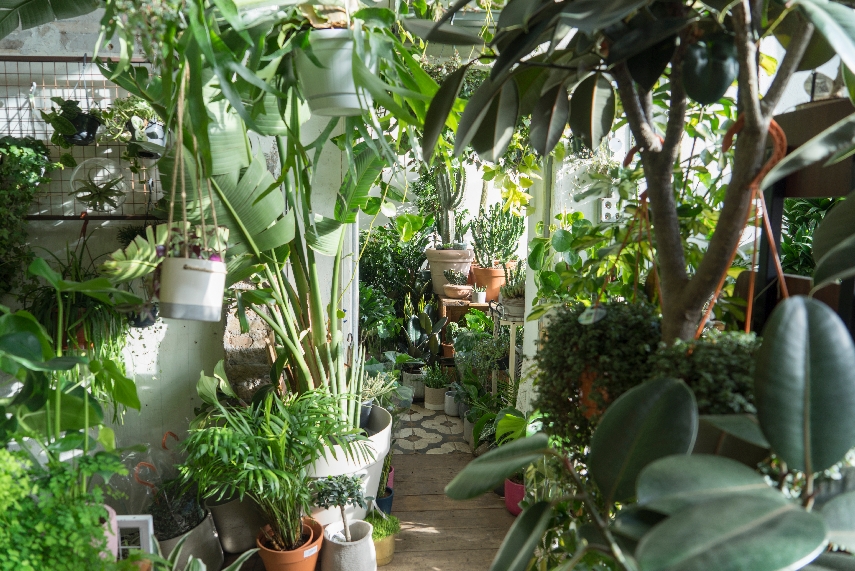 Photography by Urban Jungle Bloggers