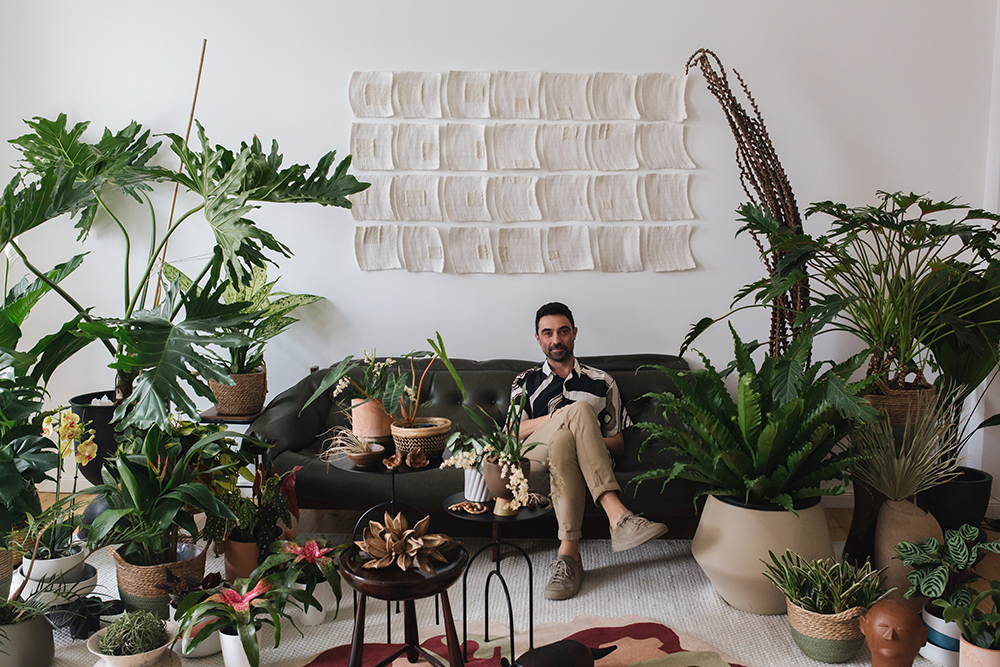 While there is hope and optimism on the horizon as the easing of lockdown approaches, there's still uncertainty about the possibility of travelling abroad this year. According to the Amex Trend report, people are missing travel so much that it's taking an emotional toll and impacting their wellbeing, with nearly half (48%) of respondents citing that not being able to travel makes them feel anxious and stressed. We partnered with The Joy of Plants for our latest project to reveal how you can transform your home with houseplants to immerse yourself in another country, even if you're planning a staycation at home.
The solution? Armchair travelling. The concept of armchair travel involves experiencing faraway places from the comfort of your own home – whether that's reading a book, watching a documentary, or listening to the music from a particular country to immerse yourself in the sights and sounds without stepping a single foot outside your front door.
With many restrictions still in place and no sign of them easing soon, we want to showcase the power of Houseplant Travel. Houseplant Travel involves embracing native houseplants from countries across the world and pairing them with signature interior design trends to transform a space in your home and transport you to the shores of a faraway destination. Creating two distinct and beautiful looks, Igor took inspiration from Brazil while Judith chose South Africa. We both authentically capture the flora and style of each country, with houseplants firmly in the spotlight. Let's kick off with our first destination: Brazil!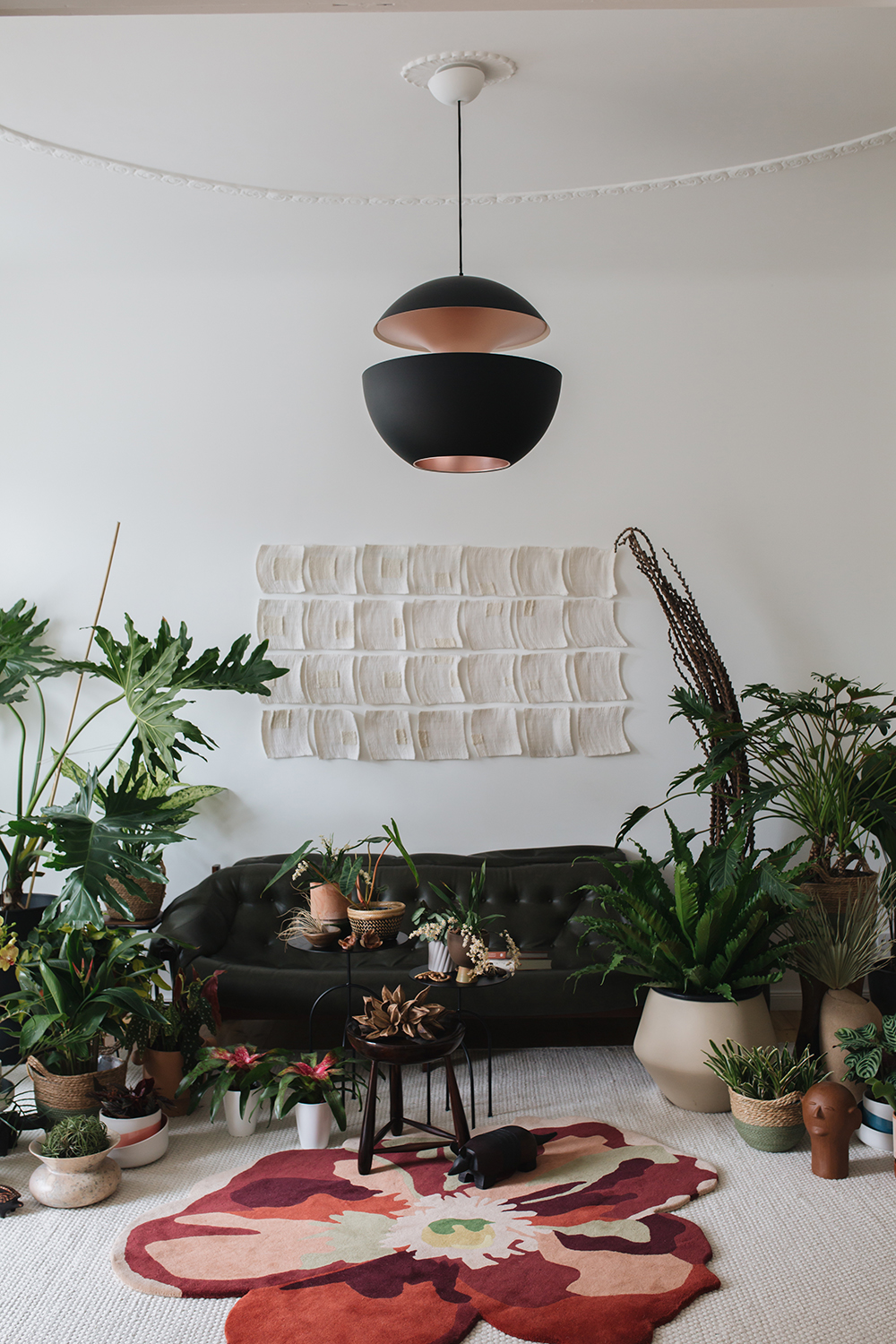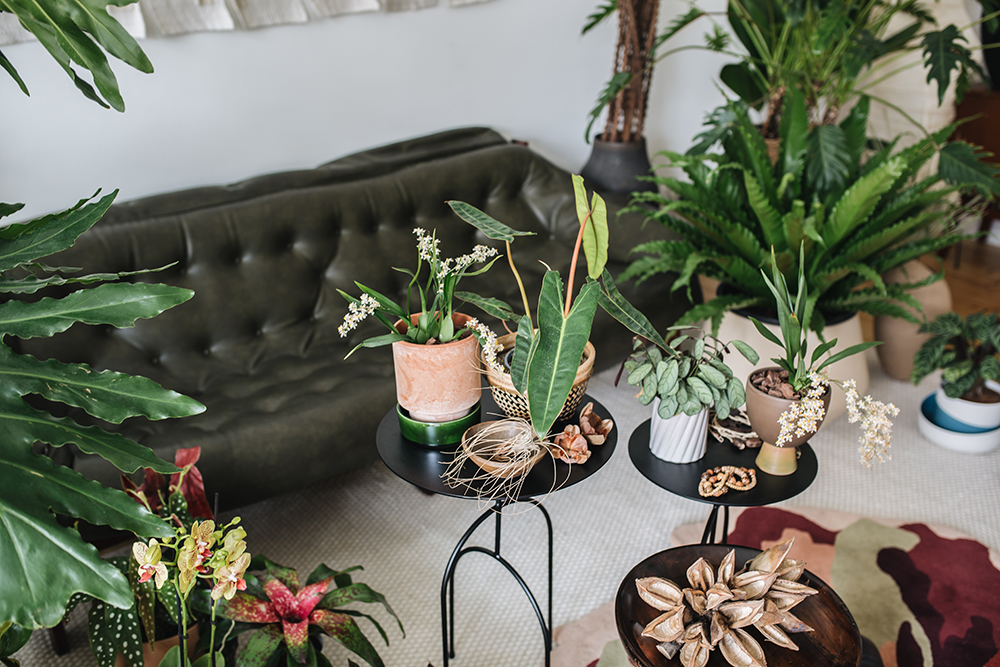 Can you tell us more about the look you have created?
IGOR: I wanted to create a Brazilian jungle inspired by the lush foliage of the Amazonian jungle paired with carefully selected accessories that represent traditional Brazilian craftsmanship and contemporary Brazilian design alike. My colour scheme was simple: I wanted the various green hues to dominated in combination with earthy nuances and color pops here and there.
What inspired you to choose Brazil?
IGOR: I chose Brazil because I fell in love with the country after my first visit while working on our PLANT TRIBE book. I was fascinated by the lush native flora and I realized that many favorite houseplants in our part of the world actually originate from Brazil. I was also intrigued by Brazilian design, craftsmanship and the indigenous artisans. And last but not least, I am married to a Brazilian. Need I say more? 🙂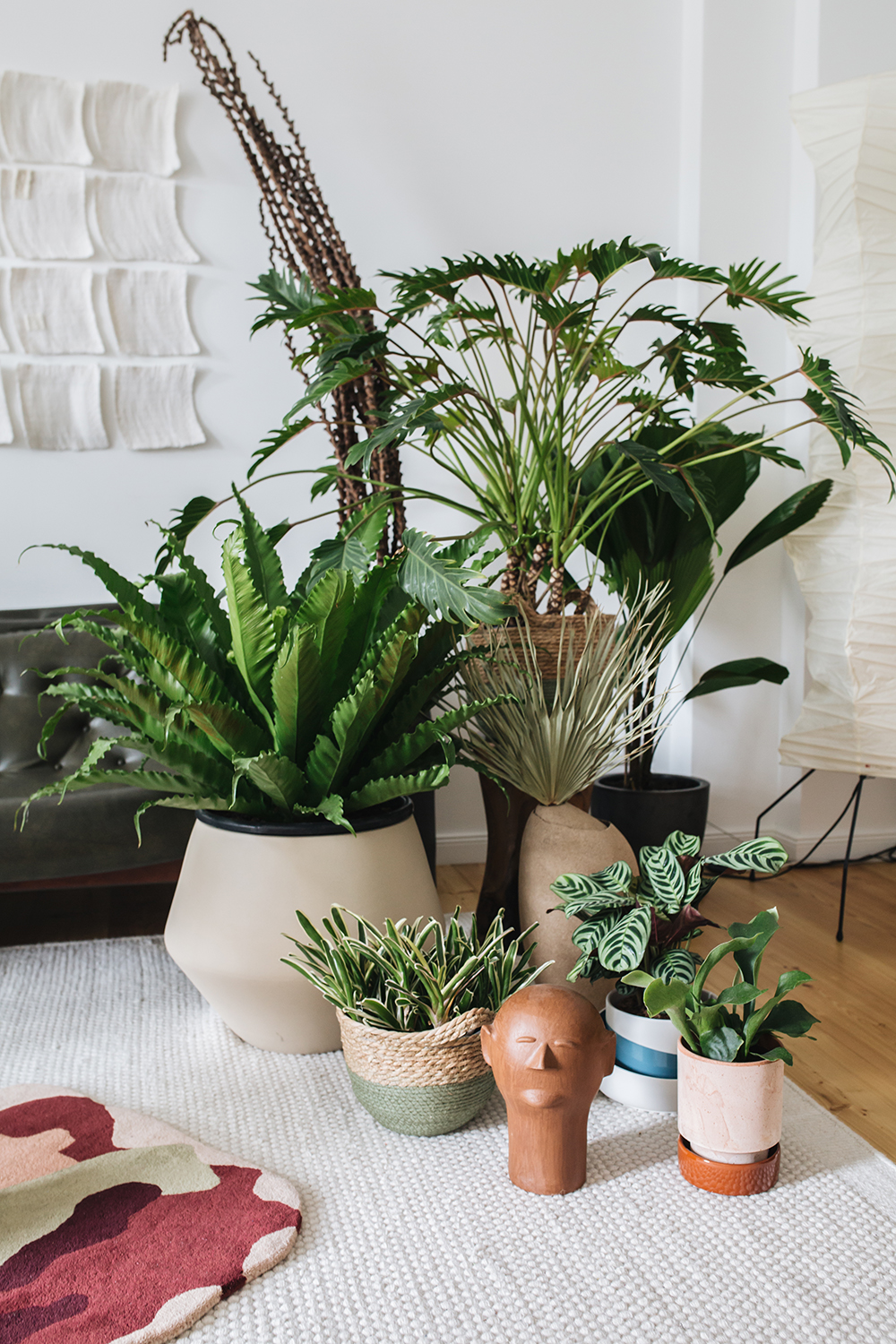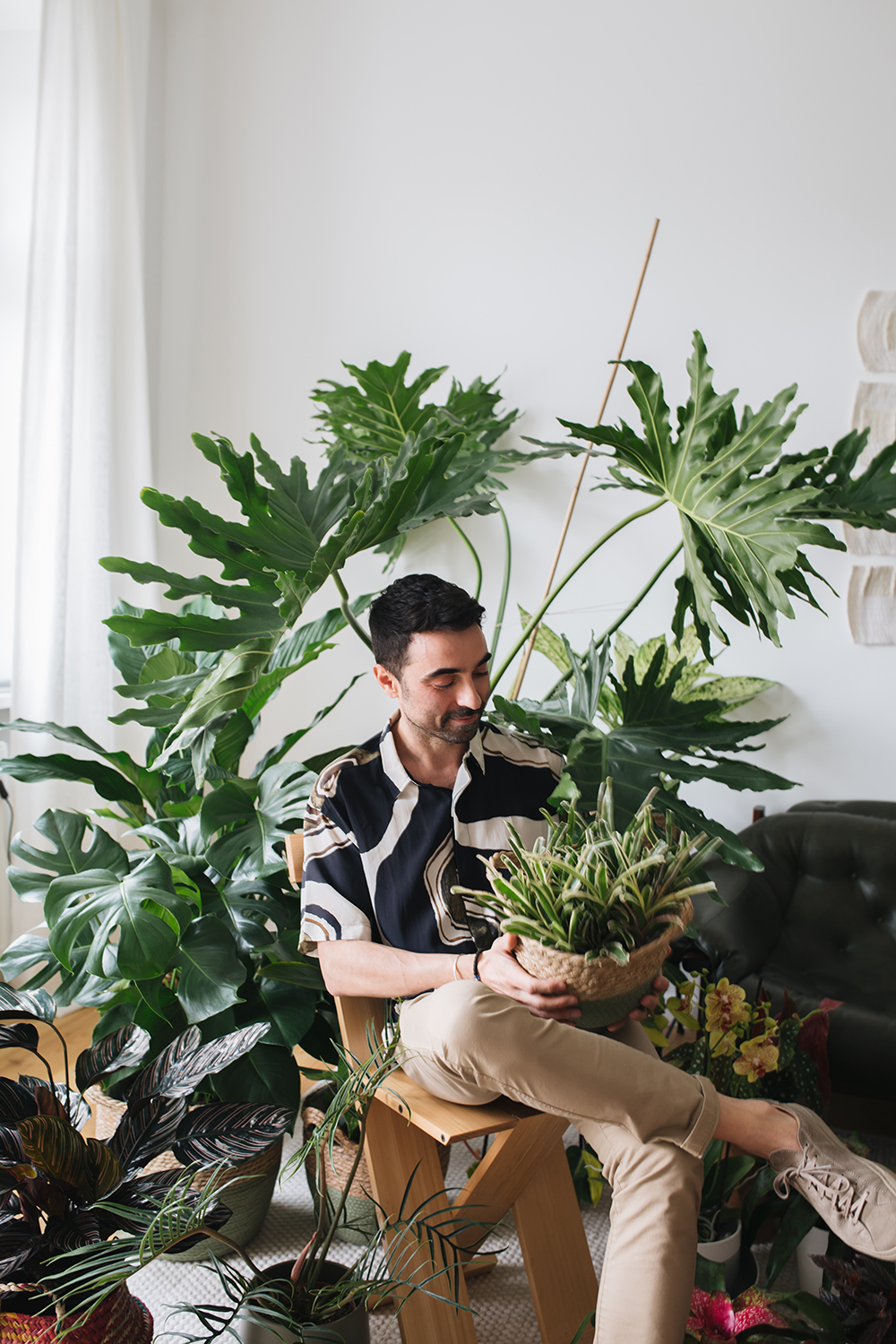 What are your favourite houseplants to feature in the look and why?
IGOR: I will admit, I have a soft spot for the gigantic Philodendron Selloum. Its huge leaves on long, thick stems really transport me directly to the Amazonian jungle. Sitting under its green canopy I feel like I am waiting any minute to hear the raindrops fall on its umbrella sized leaves. I also love the beautiful bromeliads with their pink colour and tiny purple blooms. I remember those growing everywhere in Brazil, typically as epiphytes on big trees. Also the Philodendron Tortum is a favorite for its very unusual foliage in the Philodendron family. And the Calathea Burle Marxii is dear to my heart as it's named after one of my favorite Brazilian artists and landscape designers, Roberto Burle Marx.
How are elements of Brazil reflected in the design and styling?
IGOR: Brazil is literally everywhere in the final styling! All the plants are native to Brazil and most of the accessories actually come from Brazil  – I brought them myself from my five Brazilian trips so far such as various baskets made by indigenous people, the wooden armadillo made of Brasil wood, the soapstone vase from the state of Minas Gerais and more . Even the vintage olive green leather sofa is a piece by Brazilian designer Percival Lafer from the 1970s.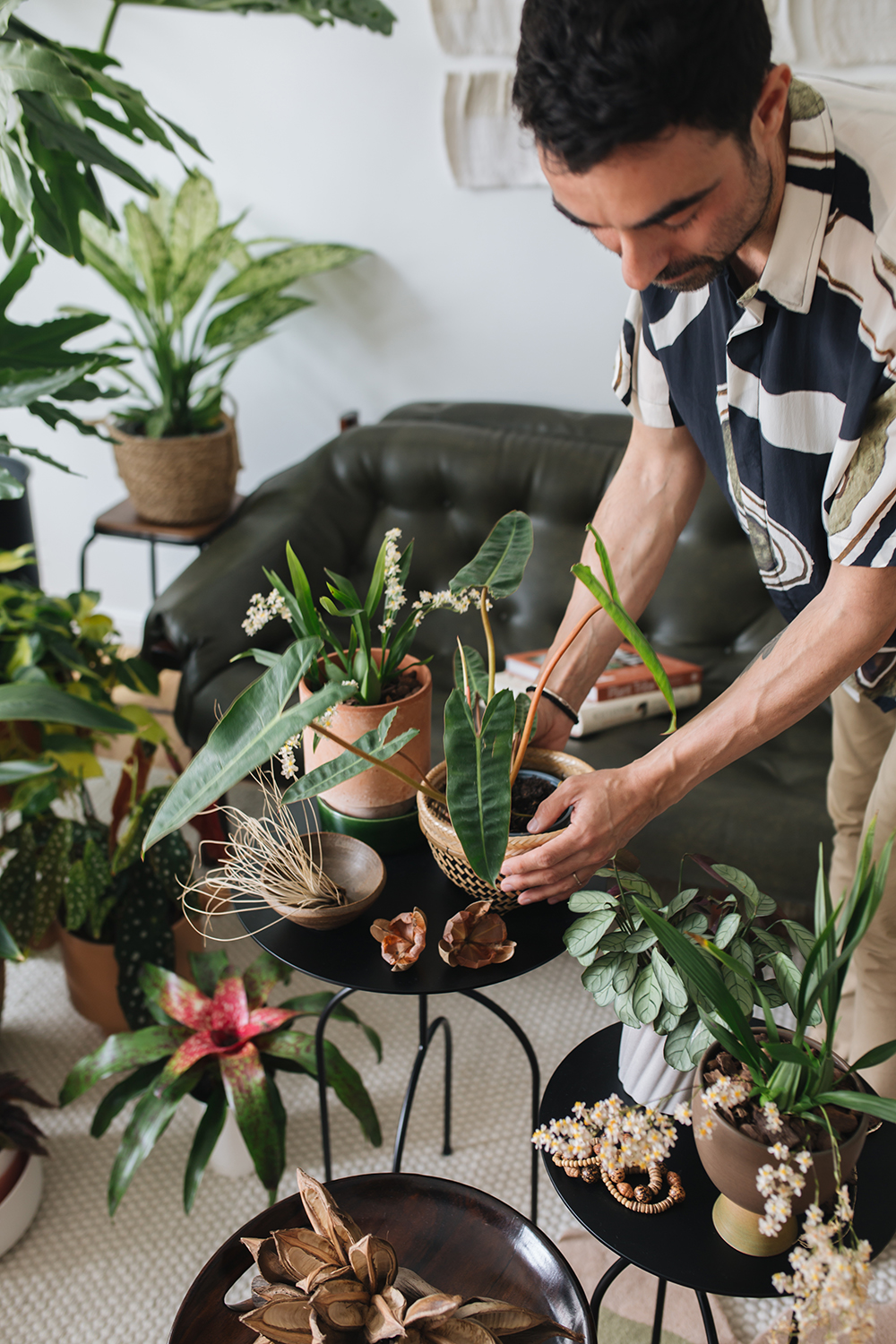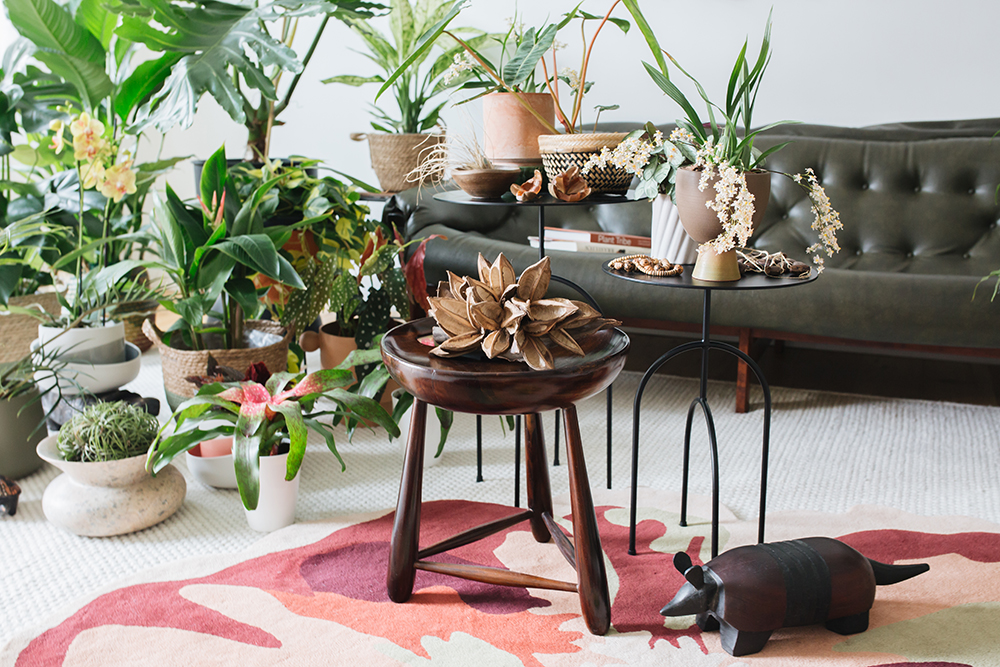 What is a unique feature or quality of houseplants native to Brazil?
IGOR: Houseplants native to Brazil are mostly used to filtered, indirect light and higher humidity as most of them grow in the native jungles (Amazonian, Atlantic Forest etc.) and are covered by taller trees. Thus this plants are quite ideal for most homes with good indirect light – no need for full south side sunshine!
What is your top styling tip houseplants native to Brazil?
IGOR: Pair the plants with earthy accessories made of natural materials such as plant fibers, stones, clay. Keep the colour scheme to the earthy side and add pops of colours here and there, either with accessories or blooming plants native to Brazil such as orchids or Heliconias or colourful bromeliads.
What is your top care tip for houseplants native to Brazil?
IGOR: Make sure to keep the humidity high for your tropical plants. I tend to mist them every other day just to give them the good feeling of being almost like at home in Brazil!
In your opinion, how do houseplants help us 'travel' and achieve that holiday feeling from home?
IGOR: In these challenging times where traveling is almost impossible, plants helped me bringing a holiday feeling to my apartment. I truly believe that plants in general help us unwind and relax, find our inner balance after a hectic day and nurture our well-being as well as our creativity. All those aspects I aim for in good holidays too. So they do the trick for me!
What would be your main advice for those wanting to recreate this look at home?
IGOR: Mind my crazy Brazilian jungle, you don't have to go over the top for the same feeling at home! Pick just a few plants, if your space allows, go for bigger and more mature plants. Place them in an ideal corner and add a few natural accessories like clay planters or woven baskets, make sure you have a cosy place to sit and grab your favorite book, a drink in your hand, and travel away! Bon voyage or better yet: boa viagem!
If you could choose another country to (houseplant) travel to, what one would it be and why?
IGOR: I think I would go to Indonesia for its lush tropical jungles, volcanoes, all the palm trees and its rich culture!