Our community shares our love for houseplants and beautiful interiors, that's why we exclusively consider products and projects that match this botanical topic. We offer several services:
Product reviews, styling & photography, social media promotion, giveaways, event coverage, speaking engagements, botanical stylings, workshops, company/shop visits, capsule collections.
Previous clients include: IKEA, Pinterest, H&M Home, West Elm, Design Within Reach, USM Haller, Urban Outfitters and Zalando as well as many smaller brands and talented artists.
Urban Jungle Bloggers has been featured in Monocle, Trend Tablet, The Times, Better Homes & Gardens, Freunde von Freunden, Living Argentina, T magazine (NY Times), NYLON, die Zeit, Architectural Digest, The Guardian and more.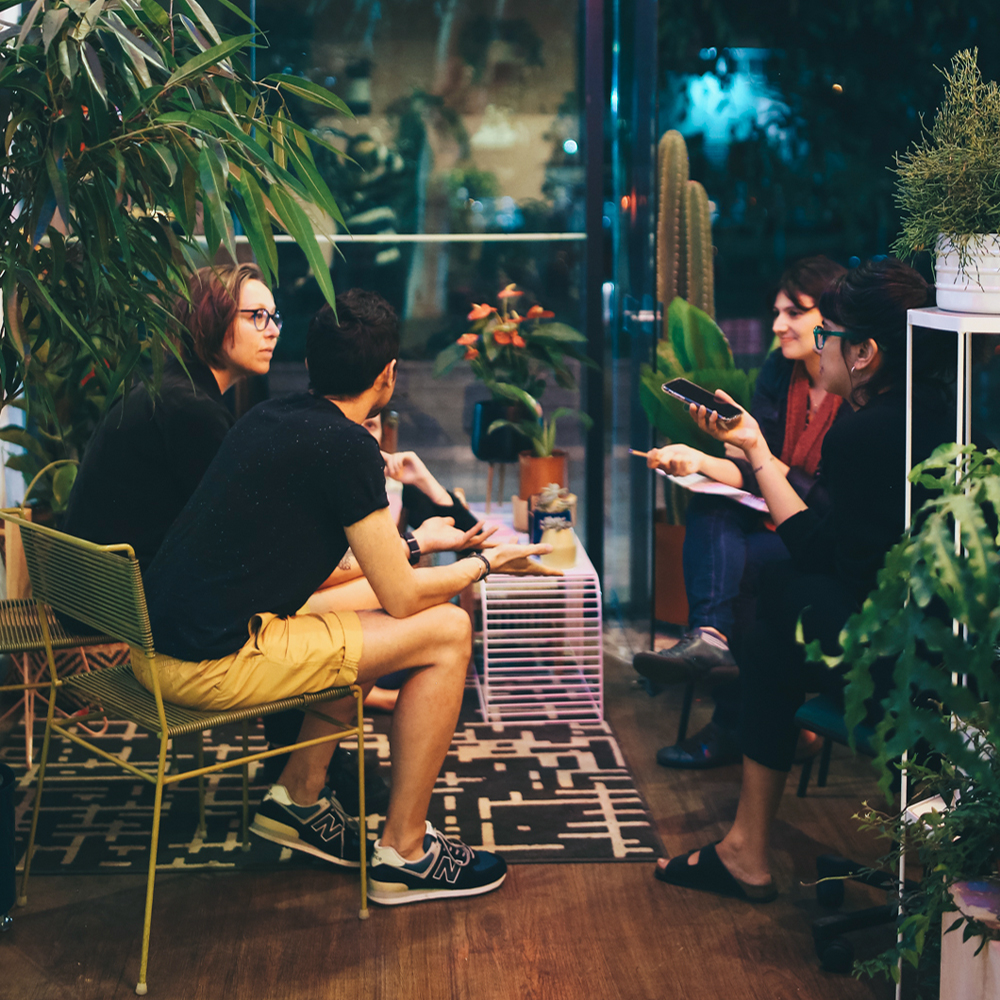 About Urban Jungle Bloggers
Urban Jungle Bloggers™ started in 2013 when we (Igor and Judith) met over coffee in Paris chatting about favorite blog topics, like interiors, travels and greens. We soon realized that we share a common love for houseplants and decided to turn this into a monthly blog series on our own blogs. We called it Urban Jungle Bloggers. From the first month, our blog readers loved it and fellow bloggers asked to join in and in the next months, dozens of bloggers joined and a global community of plant lovers was born.
Knowledge was shared, inspiring DIY's were featured, styling tips exchanged. New blogposts were gathered on the Urban Jungle Bloggers website and via Facebook, Pinterest and Twitter. The community kept growing and the #urbanjunglebloggers hashtag on Instagram quickly became one of the most popular houseplant-related hashtags. In January 2016, we started a new project: our first book called Urban Jungle, Living and Styling with Plants. We decided to document the process and highlights from our green community via our new @urbanjungleblog account on Instagram. Twice a day we share the most inspiring photos tagged with #urbanjunglebloggers. In September 2016 we launched the new book in both English and German. It sold out in a week and is currently in its 14th edition and has been translated in 13 languages, like French, Dutch, Czech, Chinese, Russian, Korean, Swedish, Norwegian, …
While meeting so many plant lovers from around the world, during talks, workshops, plant trips and conferences, we couldn't help but notice that plants also do so much for us. Not only do they make our homes look good, houseplants also help to feel better, be more present and develop different skills. This is where the idea of our second book sprouted: Plant Tribe, Living Happily Ever After with Plants.
Plant Tribe addresses the life-changing magic of living with and caring for plants. Aimed at a wider audience than typical houseplant books, each chapter combines easily digestible plant knowledge, style guidance via real home interiors, and inspiring advice for using plants to increase energy, creativity, and well-being and to attract love and prosperity.
In the new book the reader is invited to become part of the global PLANT TRIBE by visiting 17 plant-filled homes across the globe, from the USA over Brazil to Europe. The authors talk to the global PLANT TRIBE about how plants add happiness and good vibes to their homes, or even changed their lives. Moreover, this book reveals secrets about how plants boost well-being and creativity by delving into topics such as horticultural therapy, slow living with plants and how plants drive businesses. Read more about the book HERE.
First online course on Styling and Decorating with Plants
In February 2022 we launched our first online course with Domestika called Home Styling and Decoration with Plants. When a home or office space is harmoniously styled with plants, it not only looks beautiful, it also breathes fresh and new life into an interior space. We as founders of Urban Jungle Bloggers believe plants create a healthier and happier place to live in. Because there was such a high demand, we created this course together with Domestika. In this course, we teach beginning plant lovers how to decorate your home or office with plants. Learn our professional styling techniques to transform interior spaces into your own urban jungle. Read all about the new course HERE.
About Igor & Judith
IGOR JOSIFOVIC-KEMPER (1978) is a social media consultant based in Munich Germany, focusing on interior design, home decor, travel, and plants. With Judith de Graaff, he is the co-author of the bestselling book Urban Jungle (Callwey Verlag, 2016) and Plant Tribe (Abrams Books NY, 2020) and co-founder of the Urban Jungle Bloggers community. Read more about Igor on his Happy Interior Blog, or find him on Instagram @igorjosif
JUDITH DE GRAAFF (1980) is a freelance designer living in the South of France, with a focus on interior design, travel, color, and plants. With Igor Josifovic-Kemper, she is the co-author of the bestselling books Urban Jungle (Callwey Verlag, 2016) and Plant Tribe (Abrams Books NY, 2020) and co-founder of the Urban Jungle Bloggers community. Read more about Judith on her blog JOELIX.com or find her on Instagram @joelixjoelix
Contact
No plant or project is exactly the same, so to find the best way to work together and create something exciting, get in touch with us and let's get the conversation started. You can reach us by email at hello (at) urbanjunglebloggers.com or find more info on our contact page.